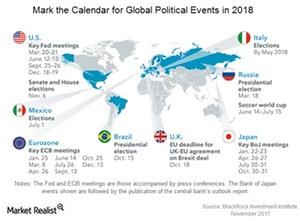 Will 2018 Be a Smooth Road for Investors?
Series recap
In the previous parts of the series, we discussed the top-performing markets in 2017. US markets (SPY) (SPX-INDEX) impressed investors after the elections as did European and Asian markets. Emerging market economies (EEM) in general contributed to the global economic recovery in 2017.
Article continues below advertisement
Article continues below advertisement
What lies ahead in 2018?
2018 also brings with it many geopolitical events that could bring uncertainty and turn the market around. However, many market participants have optimistic views about 2018. BlackRock in its Global Investment Outlook 2018 research paper stated that it still sees a coordinated global expansion with room to run in 2018. In the United States, the Federal Reserve is expected to make steady moves to normalize policy. The proposed tax reform could boost corporate earnings and economic growth overall, forcing the Federal Reserve's hand for more rate hikes. The dollar (UUP) is expected to stabilize in the second half of 2018. Policy normalization is expected in the Eurozone and Japan as well in 2018. South Korea's (EWY) economic recovery is expected to continue as well in 2018. A Reuters article this month stated that South Korea's government projected economic growth for the country to come in at around 3% in 2018.
Russell Investments in its 2018 Global Market Outlook said that it expects Eurozone economic growth to stay strong at 1.8% to 2.4% in 2018. The chart above shows that real economic activity such as retail sales and industrial production is expanding. In 2018, economic activity is expected to grow further driven by easing financial conditions and improving producer and consumer confidence. Strong economic growth is expected from Japan as well. Commodity prices are expected to boost the Australian equity market, which has otherwise lagged other global markets in 2017. The MSCI Australia Index (EWA) has risen 13.3% YTD in 2017.
What are the risks?
The stock market and risk go hand in hand. Geopolitical risks can be expected in the coming year due to elections in Italy and Brexit negotiations. In 2018, if China (GXC) decides to prioritize reform over growth, it could pose a threat to global economic growth.
Can we still expect a strong equity market rally in 2018? Only time will tell. Until then, investors should be cautious.