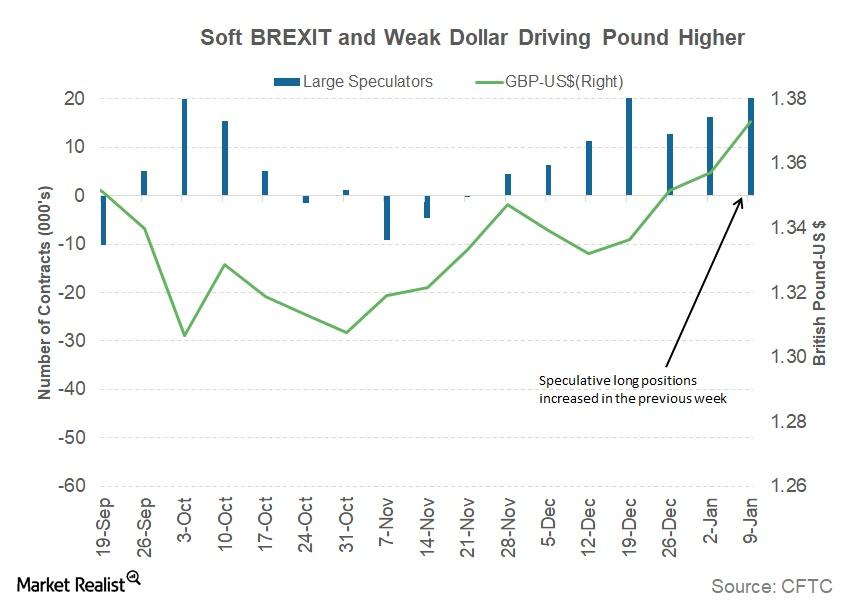 Why a Soft Brexit Possibility Is Driving the British Pound Higher
British pound at an 18-month high
The British pound (FXB) had another positive week as it reached an 18-month high against the US dollar. For the week ended January 12, the British pound (GBB) closed against the US dollar (UUP) at 1.3729, appreciating by ~1.2%.
The gains in the British pound were driven by the higher chances of a soft Brexit deal, which could see economic relations between the UK and the EU remain mostly unchanged. News reports indicated that the European Parliament could soften its stance on relocating London's clearing houses to Europe.
Article continues below advertisement
Speculators turned bullish on the British pound
According to the January 12 Commitment of Traders report, speculators sharply increased their bullish positions on the British pound. The total outstanding net positions increased from 16,235 contracts to 25,492 contracts for the week ended January 12.
If the Parliament debate on January 16 and 17 strengthens the possibility of a soft Brexit, we can expect a further buildup of long positions on the British pound.
Outlook for the British pound
This week, the UK expects to report its inflation and retail sales data. Inflation in the UK has shot up recently due to a weak currency and higher import costs. However, the recent recovery in the British pound could soften inflation growth readings this week.
Although not a strong indicator of personal consumption, retail sales could move the British pound if there is a surprise in the release. This data is due on Friday, January 19, and could have an impact on the volatility of British pound.
In the final part of this series, we'll analyze why the Japanese yen appreciated against the US dollar last week.