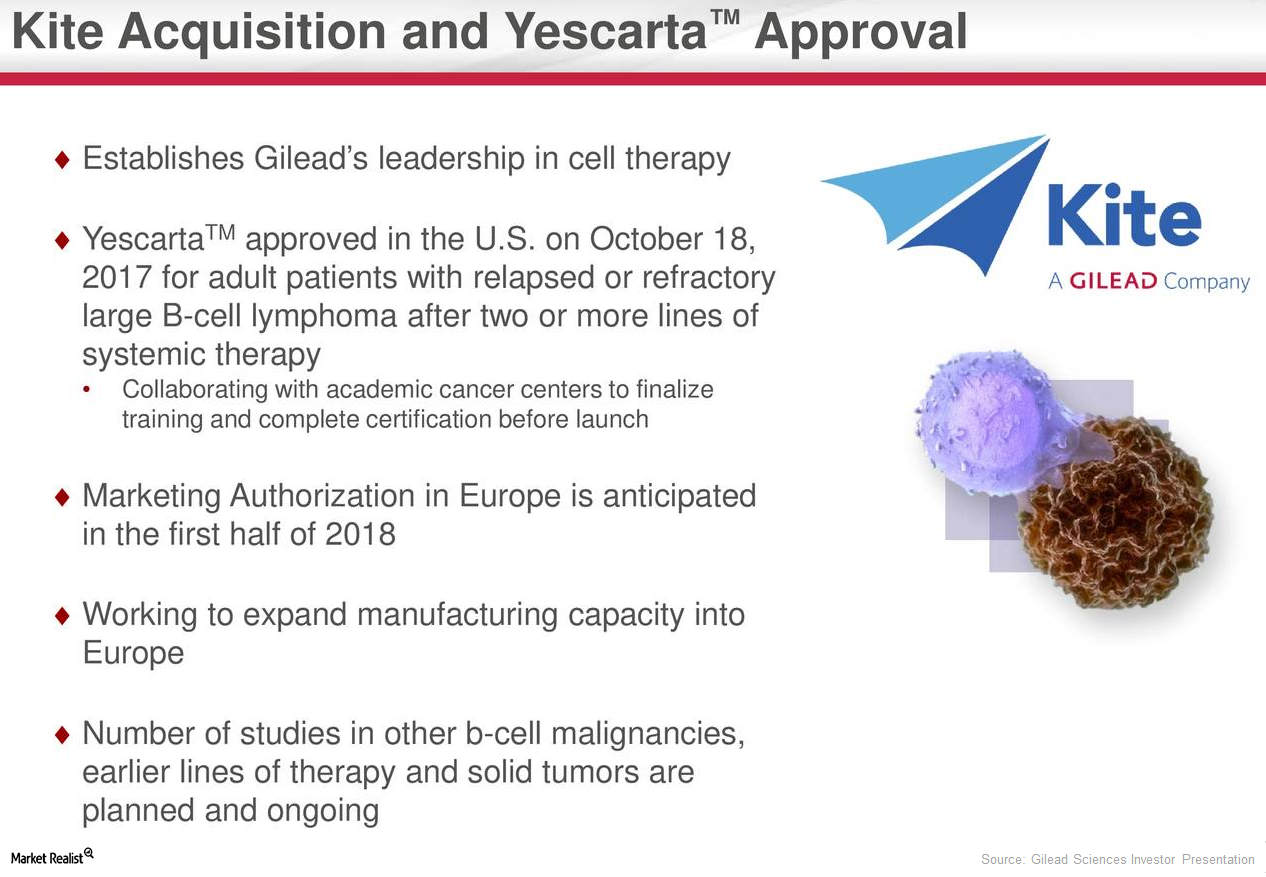 What Else Could Drive Gilead's Long-Term Growth?
Updates on Yescarta
In December 2017, Kite, a Gilead Sciences (GILD) company, presented long-term follow-up data from its pivotal ZUMA-1 trial of Yescarta (axicabtagene ciloleucel) in individuals with refractory large B-cell lymphoma.
After a median 15.4-month follow-up, among patients administered with single infusion of Yescarta, 42% patients continued to demonstrate a response to the therapy, with 40% patients achieving complete remission.
After a minimum of one year after Yescarta therapy, Kite conducted an updated analysis to evaluate the durability of Yescarta responses. In the study, 82% patients demonstrated a response to Yescarta, including 58% of patients achieving complete remission.
Article continues below advertisement
In the analysis of the extended ZUMA-1 trial, 12% patients experienced grade-3 or higher cytokine release syndrome, while 31% patients experienced neurologic toxicities. In the study, the common grade-3 or higher reactions were neutropenia, thrombocytopenia, and anemia. In the study, ten patients demonstrated severe adverse events after six months of the Yescarta infusion.
In the European Union, Yescarta has been granted Priority Medicines (PRIME) regulatory support. Currently, Gilead's Marketing Authorization Application (or MAA) for Yescarta to the European Medicines Agency is under review. The approval of the same is expected in the first half of 2018.
About DLBCL
Diffuse large B-cell lymphoma (or DLBCL) is one of the common forms of non-Hodgkin lymphoma. DLBCL accounts for three of every five non-Hodgkin lymphoma cases. In the US, around 7,500 individuals who are candidates for CAR-T (chimeric antigenic receptor T) therapy are diagnosed every year with refractory DLBCL.
In the marketplace, Yescarta's peer in CAR-T therapy includes Novartis's (NVS) Kymriah. In January, Celgene announced its plans to acquire Juno Therapeutics. Juno Therapeutics' (JUNO) JCAR017 is a CAR-T therapy under investigation in its pivotal stage. JCAR017 is also under investigation for its safety and efficacy in the treatment of DLBCL.
Some other notable peers of Gilead Sciences investigating CAR-T therapy include BlueBird Bio (BLUE) and ZioPharm Oncology. Notably, the Vanguard Total Stock Market ETF (VTI) invests ~0.51% of its total portfolio holdings in Gilead Sciences (GILD).