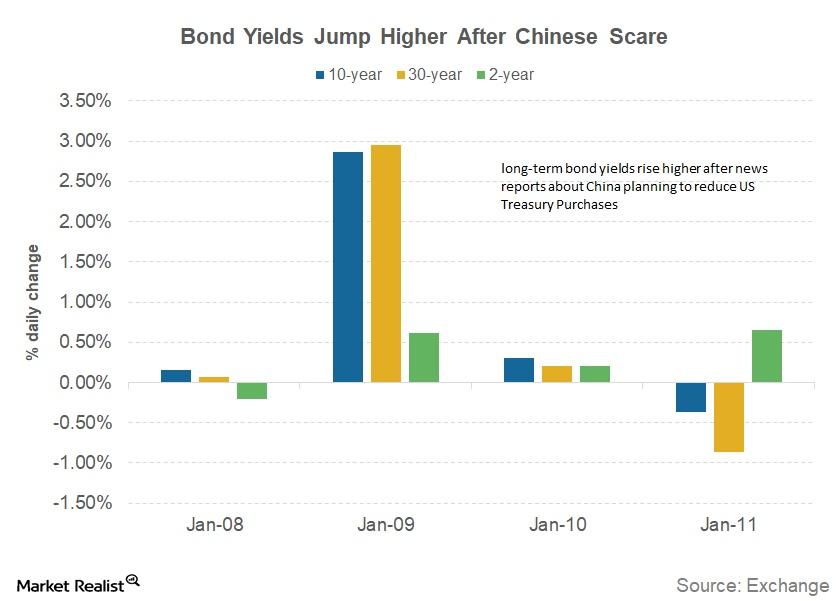 The US Bond Market and the Big Scare from China
The big scare from China
On January 10, 2018, Bloomberg News broke a story that the Chinese government could be planning to slow down its purchases of US government debt (GOVT). After the story broke, the US ten-year yield (IEF) skyrocketed to a ten-month high but later retreated. The sudden spike in yields highlighted the risks that are faced by the US debt (BND) markets if its largest customer, China (FXI), changes its policy.
Article continues below advertisement
Why were the markets spooked by the news?
The U.S. Treasury issues Treasury securities to borrow money from investors and uses it to fund the economy. Foreign countries that have surplus reserves invest in these securities since US debt is considered the safest investment option and enjoys the highest credit rating from rating agencies. China is the largest foreign holder of US debt, which totals $1.2 trillion. That's close to 20% of the total debt owed by the United States to foreign countries. When such a large holder of debt is planning to reduce its purchases, demand for Treasuries could decline, and investors could demand higher a yield for their investments in the U.S. Treasury. That was the key reason for yields to rise significantly after the news about China.
Series overview
In this series, we'll be analyzing US debt (SCHO) holdings and the other countries that hold large amounts of US debt. We'll see why China holds such a high amount of US debt and how any changes in China's policy could impact the United States and the global debt markets.