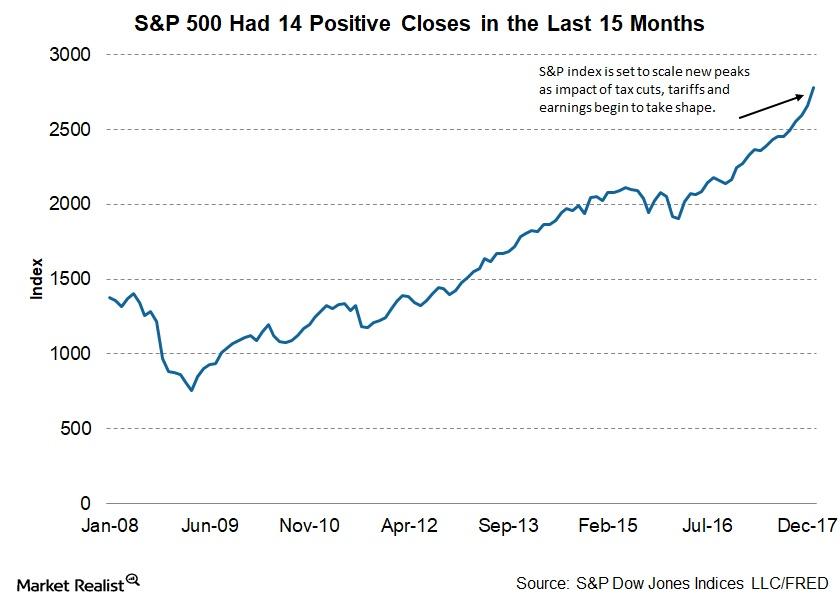 Understanding the Link between the S&P 500 Index and the US Economy
By Ricky Cove

Jan. 31 2018, Updated 3:35 p.m. ET
S&P 500 Index inching close to another milestone
The S&P 500 Index (SPY) closed 2017 with gains of ~19.4% and is on track for further gains, backed by the impact of tax cuts and impressive corporate performances. The Trump administration is expected to announce further fiscal expenditures in the form of infrastructure spending, and these could further improve the outlook for the US economy.
The S&P 500 index is inching closer to the 2,900 mark, amid positive earnings reports from US corporations, and is looking to break new records in coming months.
Article continues below advertisement
S&P 500 performance and impact on the leading index
The Conference Board LEI (Leading Economic Index) uses the performance of the S&P 500 Index (VOO) as one the constituents of the LEI.
Remember, there's no direct link between the stock market performance and economic performance, as stock prices only reflect investor expectations for future returns. The justification for the use of equity index (QQQ) performance alone as a forward indicator would not make sense, but when used in an economic model, in combination with other forward indicators, it helps in predicting future changes to economic progress.
The S&P 500 Index (IVV) appreciated by 0.98% in December and is expected to post one of the best monthly returns in a nearly two-year period in January. The performance of the S&P 500 Index (UPRO) has a weight of 3.97% on the conference board leading economic index, and for December, the index had a net positive impact of 0.11 (or 11%) on the LEI.
ETFs tracking the S&P 500 Index
The SPDR S&P 500, the iShares Core S&P 500, and the Vanguard S&P 500 ETFs are a few of the prominent ETFs (exchange-traded funds) tracking the performance of the S&P 500 Index. These funds mimic the performance of the S&P 500 Index and help retail investors with limited funds invest.
The outlook for US indexes remains optimistic, despite stretched valuations, and the index's performance, according to the LEI, signals no risk to US economic expansion.
In the next part of this series, we'll analyze the Leading Credit Index performance in December.