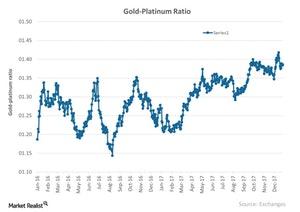 Understanding the Recent Gold-Platinum Cross Rate
Short supply
In this part of our series, we'll focus on the gold-platinum spread. When analyzing platinum markets, it's important to compare the metal's performance with that of gold, which is the most crucial of the precious metals.
The comparative price performance between these two metals can be analyzed by way of the gold-platinum ratio or spread, which indicates the number of platinum ounces needed to buy a single ounce of gold.
The platinum market has been in short supply for the past few years. Markets are expecting a 15,000-ounce short supply in 2017, which could further deepen to a 275,000 short supply in 2018. Calendar 2018 would make the sixth-straight year of shortfalls for platinum.
The primary reasons behind the drop in the platinum supply appear to be the decline in production in South Africa and the lower demand of the gasoline-based engines in favor of diesel-based engines.
Article continues below advertisement
Spread reading
The comparative performance of gold and platinum can also be studied by way of gold- and platinum-based funds like the Physical Platinum Shares (PPLT) and the SPDR Gold Shares (GLD). These two funds have seen YTD (year-to-date) gains of 1.6% and 11.5%, respectively.
The gold-platinum ratio was ~1.4 on December 27, 2017. The RSI (relative strength index) level for the gold-platinum spread is was 49.4 on that day. Notably, not much has changed in the gold-platinum cross rate for the past few months.
Remember, a rise in the ratio indicates that it requires more ounces of platinum to buy gold, which is another way of expressing the comparative strength of platinum next to gold. Similarly, a drop in the ratio means relative strength for platinum.
The key mining stocks that have been significantly impacted by the movements among precious metals include Kinross Gold (KGC), First Majestic Silver (AG), Gold Fields (GFI), and Sibanye Gold (SBGL).
Continue to the next part of this series for a key look at the gold-silver spread.