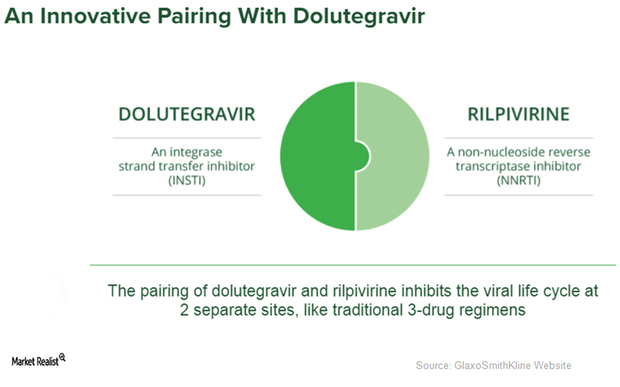 2-Drug HIV Regimens Expected to Boost GlaxoSmithKline's Revenues
By Margaret Patrick

Jan. 31 2018, Updated 10:34 a.m. ET
Jucala FDA approval
On November 21, 2017, the U.S. Food and Drug Administration (or FDA) approved Jucala, a two-drug oral regimen comprising of dolutegravir and rilpivirine for patients suffering with HIV-1 infections who have not demonstrated treatment failure or history of drug resistance to the individual components of the new therapy. These patients also need to demonstrate suppressed virus levels due to a previous stable regimen at least for a period of six months. Juluca is commercialized by ViiV Healthcare, a joint venture of GlaxoSmithKline (GSK), Pfizer (PFE), and Shinogi.
Article continues below advertisement
Since the current standard of care includes three or more drugs, the two drug regimen could help reduce toxicity levels for treated patients. Further, according to a Patient Pathways survey presented at IAS 2017, approximately 66% of HIV patients opt for regimens with fewer drugs. Additionally, the latest Department of Health and Human Services' guidelines as updated on October 17, 2017, have mentioned dolutegravir plus rilpivirine as a reasonable switch option for HIV-1 patients with suppressed viral response, with no resistance to dolutegravir or rilpivirine, and for whom the use of Nucleoside reverse transcriptase inhibitors (or NRTIs) is not advisable. GlaxoSmithKline makes up about 0.83% of the Vanguard FTSE Developed Markets ETF's (VEA) total portfolio holdings.
Two-drug HIV regimens
Besides Jucala, ViiV Healthcare is also involved in studying two other drug regimens: dolutegravir plus lamivudine and cabotegravir plus rilpivirine. GlaxoSmithKline expects ViiV Healthcare to release data from the phase three program, GEMINI, comparing dolutegravir plus lamivudine regimen with doultegravir plus Truvada's three-drug regimen in treatment-naïve HIV-1 patients in 2018. Based on this data, the company expects that the new drug application for this therapy will be filed with the FDA in 2018.
GlaxoSmithKline expects ViiV Healthcare to release data from the phase three study, ATLAS-2M, which will study whether the two-month dosing of long-acting cabotegravir plus rilpivirine is as effective in its antiviral activity as the monthly dosing of this regimen in HIV-1 patients with suppressed virus levels.
These innovative two drug regimens are expected to enable GlaxoSmithKline to compete effectively with other HIV players such as Gilead Sciences (GILD) and Bristol-Myers Squibb (BMY).
In the next article, we'll discuss growth prospects for GlaxoSmithKline's vaccines business in greater detail.