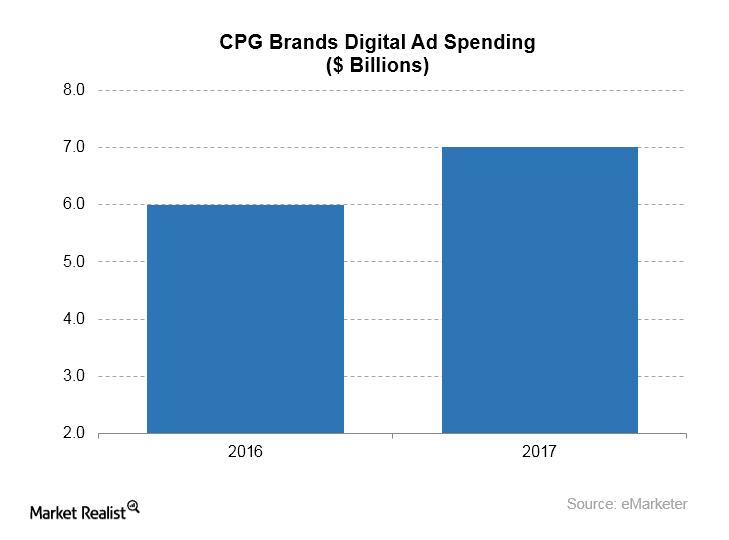 What Are the Trends in Facebook's Largest Advertising Category?
CPG brands among largest advertisers
For a company like Facebook (FB) that relies on advertising budgets for the majority of its revenues, it's important for investors to understand trends in its largest advertising categories. This information can help get a sense of the company's path.
One of Facebook's largest advertising categories is the consumer packaged goods (or CPG) industry. The largest brands in this industry include Unilever (UL) (UN), Procter & Gamble (PG), Nestlé, PepsiCo (PEP), and Coca-Cola (KO).
Article continues below advertisement
CPG companies going digital with commercials
Business intelligence firm eMarketer estimates that CPG brands spent more than $7.0 billion on digital advertising in 2017, compared with $6.0 billion in 2016. Television still claims a larger share of CPG brands' advertising budgets, with CPG television ad spending in 2016 estimated at more than $12.0 billion.
Online video fuels CPG digital advertising
However, the rise in online video is expected to encourage CPG brands to purchase more digital commercials. CPG companies are familiar with television commercials that enable them to connect with consumers. It is no wonder that digital advertising providers such as Facebook, Alphabet's (GOOGL) Google, Twitter (TWTR), and Snap (SNAP) are investing in video content and advertising.
As part of its video push, Facebook launched a video hub called Watch in August 2017. This launch allowed it to step up competition with Google's YouTube for online video advertising budgets. In the US (SPY) alone, marketers are expected to spend $22.2 billion on digital video commercials by 2021.