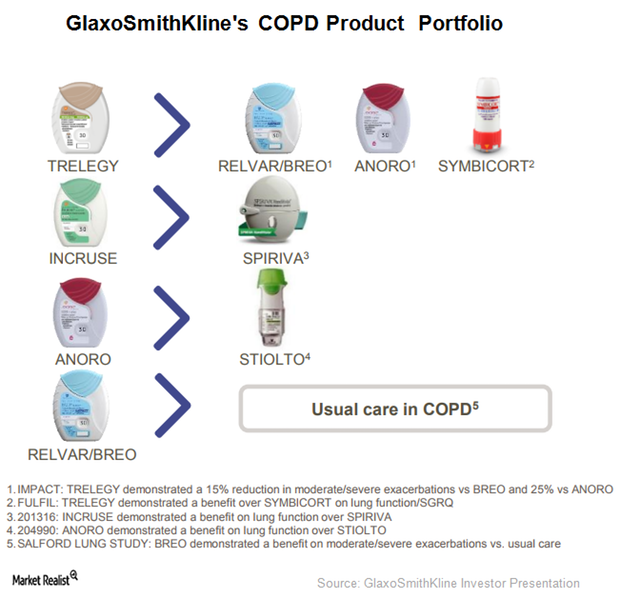 Trelegy Ellipta May Emerge as Major Growth Driver for GlaxoSmithKline
FDA approval of Trelegy Ellipta
On September 18, 2017, GlaxoSmithKline (GSK) and Innoviva announced that the US Food and Drug Administration (or FDA) approved its closed triple therapy, an inhaled corticosteroid long-acting muscarinic antagonist and long-acting beta agonist (or ICS/LAMA/LABA) called Trelegy Ellipta, as a once-daily maintenance therapy for patients suffering with chronic obstructive pulmonary disease (or COPD). The label also includes patients suffering from chronic bronchitis or emphysema. Trelegy Ellipta is currently indicated for COPD patients who were previously on Relvar/Breo Ellipta therapy or on open triple therapy comprising of Revlar/Breo and Incruse Ellipta and yet require better therapy for airflow obstruction and for reducing exacerbations. Trelegy Ellipta was launched by GlaxoSmithKline in the US in November 2017. The company expects to expand market access in the US and include data from the IMPACT study for Trelegy Ellipta in coming years.
Article continues below advertisement
On November 17, 2017, Trelegy Ellipta was also approved by the European Commission as maintenance therapy for COPD patients who require additional treatment despite previous ICS/LABA therapy. GlaxoSmithKline makes up about 0.56% of the First Trust Value Line Dividend Index Fund's (FVD) total portfolio holdings.
IMPACT study
On September 20, 2017, GlaxoSmithKline and Innoviva announced positive results from the IMPACT study, which compared the efficacy of Trelegy Ellipta with Revlar/Breo, Anoro Ellipta, and Symbicort in COPD patients. Trelegy Ellipta saw 15%, 25%, and 35% higher reduction in exacerbations as compared to Breo, Anoro, and Symbicort, respectively, in tested patients. Based on this data, GlaxoSmithKline filed a supplemental new drug application (or sNDA) with the FDA to add this data to Trelegy Ellipta's label in November 2017. Being the first once-a-day single inhaler triple therapy to be approved by the FDA for COPD, Trelegy Ellipta could enable GlaxoSmithKline to compete aggressively with other respiratory players such as Novartis (NVS), Teva Pharmaceuticals (TEVA), and Mylan (MYL).
In the next article, we will discuss growth prospects for GlaxoSmithKline's severe asthma drug, Nucala, in greater detail.