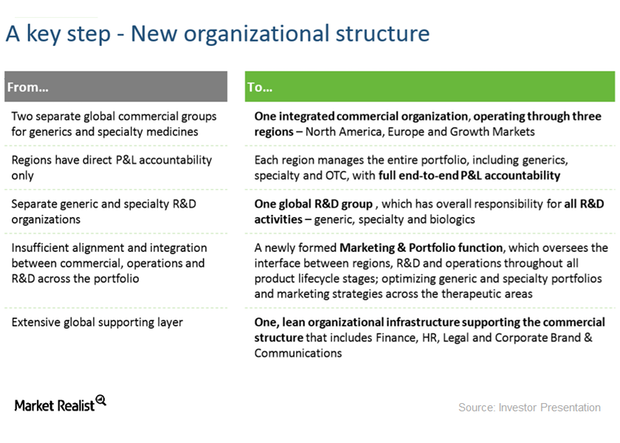 How Teva Pharmaceutical Is Realigning Organizational Structure
Restructuring plan's key focus: Organizational restructuring
On December 14, 2017, Teva Pharmaceutical Industries (TEVA) announced its restructuring plan to cut costs by ~$3 billion over the next two years. It expects to witness a major turnaround of its business with the implementation of this plan. Investors showed increased confidence in the stock with the announcement of the restructuring plan. Toward the end of November 2017, Teva went through major leadership changes and made some organizational changes before the company announced these restructuring plans. Teva aims to drive value creation and have a better commercial focus with these changes.
In the wake of stiff competition from Mylan (MYL), Gilead Sciences (GILD), and Johnson & Johnson (JNJ), Teva's organizational changes have become imperative in order to improve its business dynamics and maintain its leadership in the generics market.
Article continues below advertisement
New organizational structure
Teva Pharmaceutical has undertaken a number of acquisitions over the last several years, which led to multiple business functions with complicated structures. In order to optimize its operations and enable strategic alignment, Teva believes it is imperative to realign its business.
Teva now operates as one commercial organization in three regions: North America, Europe, and Growth Markets. Previously, the company operated through two global groups for specialty and generic medicines. Teva said some of the global units will be made redundant during the organizational optimization implementation. Two global R&D (research and development) divisions for generic and specialty medicines will be combined into one group.
The company has also established a new Marketing & Portfolio function. It will take care of the efficient interface between various geographic regions, R&D, and its operations throughout all stages of a product's life cycle. The function will also be responsible for portfolio optimization of generic and specialty portfolios.
The VanEck Vectors Pharmaceutical ETF (PPH) is one of the major ETFs that could see a movement in prices with a turnaround in Teva's business performance and related events. TEVA makes up 6% of PPH's total portfolio.