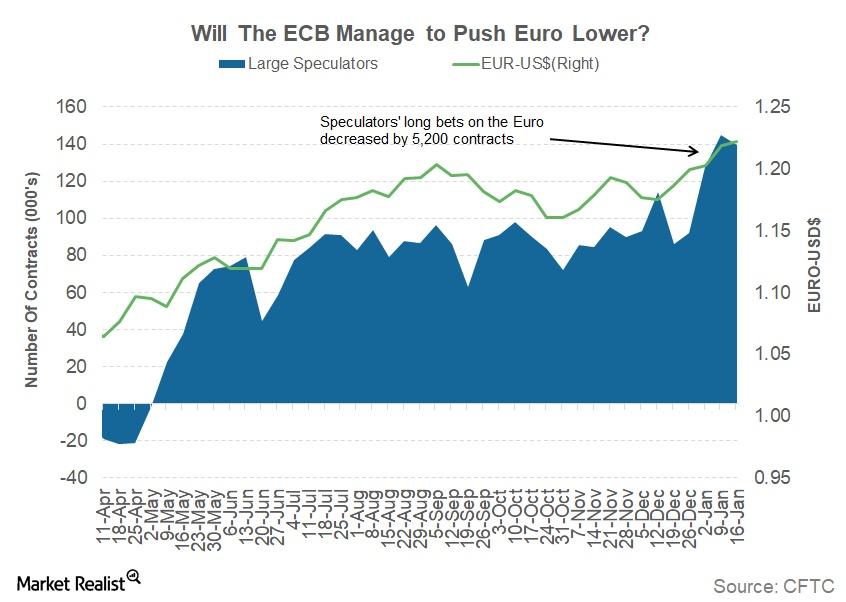 Politics and Central Bank Comments Could Drive the Euro Higher
The euro gains again
The Euro–dollar (FXE) exchange rate remained above its three-year peak to close the week ended January 19 at 1.2222, appreciating by 0.29% against the US dollar (UUP). This appreciation of the euro occurred before the positive political development in Germany, in which Chancellor Angela Merkel was able to persuade Social Democrat party to enter a formal coalition.
Economic data from the Eurozone was in line with expectations. The inflation data published on January 17 indicated that prices increased 1.4% in December 2017, which is still below the long-term average.
Article continues below advertisement
Euro speculators decrease bullish bets
According to the January 19, 2018, Commitment of Traders report, speculators marginally decreased their long euro positions by 5,201 contracts last week.
The total net speculative bullish positions on the euro (EUFX) decreased to 139,490 contracts from 144,691 contracts on January 16. This trend represents a minor decrease in bullish positions. Depending on the tone of the ECB statement, further changes in speculator positioning can be expected.
Outlook for the euro
The focus of currency traders should be on this week's European Central Bank (or ECB) meeting. The euro has appreciated considerably in the last 13 months, and it is getting to a level that could impact the region's exports.
Mario Draghi, the ECB chairman, has successfully talked the euro down in the past when it rose too quickly. This time, there is speculation that the ECB could raise interest rates or end its bond-buying program sooner than expected.
If the ECB can convince investors that there wouldn't be any change in its guidance, the euro could give up some of its gains. If the ECB isn't able to do so, we can expect another rally in the euro.
In the next part of this series, we'll discuss why the British pound rallied for the fifth consecutive week.