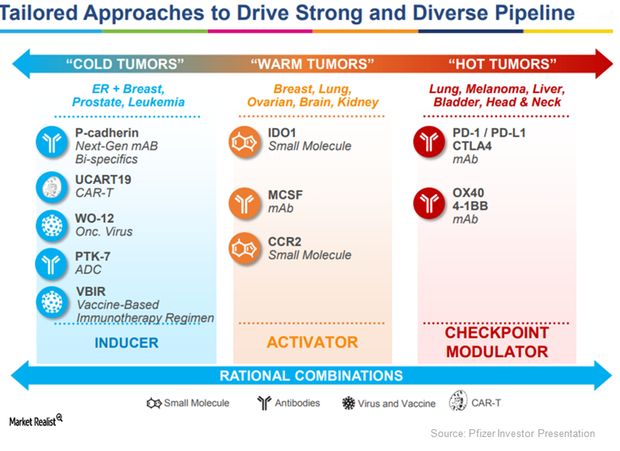 Pfizer Is Pursuing Oncology, Inflammation, and Immunology Research
Recent FDA approvals for Bavencio
On May 9, 2017, the US Food and Drug Administration (or FDA) approved Pfizer (PFE) and Merck's Bavencio (avelumab) as a treatment option for patients suffering with locally advanced or metastatic urothelial carcinoma (or UC) and witness disease progression during or after being previously treated with platinum chemotherapy or within a year of neoadjuvant or adjuvant platinum-containing chemotherapy.
On December 21, 2017, the FDA also granted breakthrough therapy designation to avelumab-Inlyta (axitinib) combination therapy in first-line advanced renal cell carcinoma indication. Notably, Pfizer accounts for around 0.80% of the Vanguard Total Stock Market ETF's (VTI) total portfolio holdings.
Article continues below advertisement
Oncology research programs
Pfizer and Merck are currently exploring Bavencio in combination with 4-1BB agent in patients not previously treated with the checkpoint inhibitor. Data from this non-pivotal trial is anticipated in 2018. Pfizer also expects data from a trial evaluating a combination of Bavencio, 4-1BB agent, and OX40 monoclonal antibody in the later part of 2018. Additionally, Pfizer is also involved in developing a vaccine against prostate cancer. The robust research pipeline could help Pfizer pose tough competition to other major oncology players such as Merck (MRK), Roche Holdings (RHHBY), and Bristol-Myers Squibb (BMY) in future years.
Inflammation and immunology research programs
On December 14, 2017, Pfizer initiated a phase three program to study the efficacy and safety of investigational Janus kinase 1 (or JAK1) inhibitor, PF-04965842, in moderate-to-severe atopic dermatitis (or AD) indication. Based on data presented by the company in the EADV conference in Europe, this once-daily oral therapy has shown clearing or almost clearing of skin lesions in almost 45% of the AD patients.