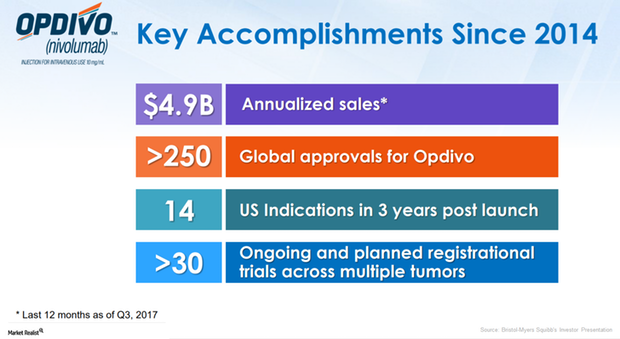 Opdivo Could Be Long-Term Growth Driver for Bristol-Myers Squibb
Recent developments
In December 2017, Bristol-Myers Squibb (BMY) and Seattle Genetics (SGEN) presented updated results from the phase 1/2 clinical trial to evaluate Opdivo and Adcetris combination therapy for relapsed or refractory classical Hodgkin lymphoma (or HL). In 1Q17, 2Q17, and 3Q17, Opdivo reported revenues of $1.1 billion, $1.2 billion, and $1.3 billion, respectively.
Article continues below advertisement
Interim results
The results were reported from the phase 1/2 clinical trial constituting 62 candidates with relapsed or refractory HL who were administered Adcetris and Opdivo combination therapy following the failure of frontline therapy.
Candidates with relapsed or refractory HL were treated once every three weeks with up to four cycles of Adcetris and Opdivo combination therapy in the outpatient setting. At the end of the fourth cycle of therapy, candidates were eligible to undergo an ASCT (autologous stem cell transplant).
In the phase 1/2 clinical trial, among 60 response-evaluable patients, 83% of patients had an objective response. 37% of patients achieved a complete response and 13% of patients achieved a partial response. Among the 62 enrolled patients, 58 patients completed the four cycles of the trial therapy, and four patients discontinued therapy prior to completion.
In the clinical trial, in 44% of patients, infusion-related reactions were observed, while 41% were of grade one or two. Presently, Seattle Genetics' Adcetris is approved for the treatment of individuals with Classical HL who are at high risk of relapse and after the failure of auto-HSCT (hematopoietic stem cell transplantation) or post failure of at least two previous multi-agent chemotherapy regimens in patients who are not auto-HSCT candidates. The FDA (Food and Drug Administration) has also granted accelerated approval of Adcetris for systemic anaplastic large cell lymphoma (or sALCL) post failure of at least one previous multi-agent chemotherapy regimen.
Some drugs indicated for HL include Merck's (MRK) Keytruda, GlaxoSmithKline's (GSK) Leukeran, Vinblastine, Vincristine, and others.
The success in the clinical trial will further strengthen Opdivo's commercialization capabilities and support data for the approval of label expansion. The growth in sales of Opdivo could boost the Vanguard High Dividend Yield ETF (VYM). Bristol-Myers Squibb makes up about ~1.0% of VYM's total portfolio holding.