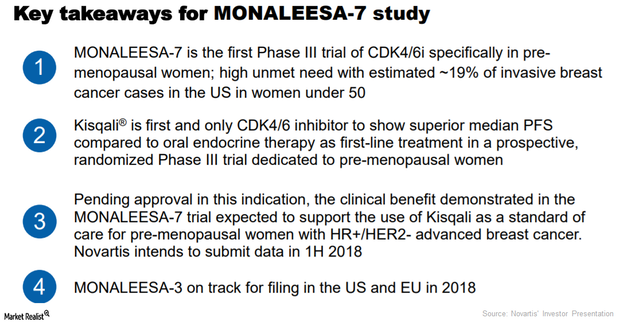 Novartis Receives 2 Breakthrough Therapy Designations in January
Kisqali receives BTD
In January 2018, the FDA granted Novartis's Kisqali a BTD (Breakthrough Therapy Designation) for initial endocrine-based treatment of premenopausal or postmenopausal women with hormone receptor-positive human epidermal growth receptor-2 negative (or HR+/HER-) advanced or metastatic breast cancer along with tamoxifen or an aromatase inhibitor.
The FDA's BTD was based on the results from the phase 3 Monaleesa-7 trial, which demonstrated Kisqali, tamoxifen, or an aromatase inhibitor combination as initial endocrine-based therapy significantly extended progression-free survival (or PFS) versus endocrine therapy alone. Kisqali competes with Eli Lilly's (LLY) Verzenio, Pfizer's (PFE) Ibrance, and AstraZeneca's (AZN) Faslodex.
Article continues below advertisement
Promacta receives BTD
In January 2018, the FDA granted a BTD to Novartis's (NVS) Promacta for use along with standard immunosuppressive therapy for the treatment of individuals with severe aplastic anemia (or SAA) as first-line therapy.
Outside the US, Promacta is commercialized as Revolade and has already received approval in the second-line setting for the treatment of SAA. Promacta is also used for the treatment of individuals with chronic immune thrombocytopenia (or ITP) who are refractory to other therapies.
An analysis conducted by the National Heart, Lung, and Blood Institute (NHLBI) of the National Institutes of Health of the data from Novartis's research demonstrated that 52% of the treatment-naïve SAA patients achieved a complete response at six months when treated with Promacta at the initiation and simultaneously with standard immunosuppressive therapy. The analysis demonstrated an 85% overall response rate (or ORR) with Promacta therapy.
In 2018, Novartis anticipates filing a supplemental regulatory filing with the FDA and European Medicines Agency for approval of Promacta in the first-line setting.
Promacta competes with Amgen's (AMGN) Nplate. In 3Q17, Promacta and Nplate reported revenues of $227 million and $159 million, respectively. The Pharmaceutical ETF (PPH) invests ~4.7% of its total portfolio in Novartis.