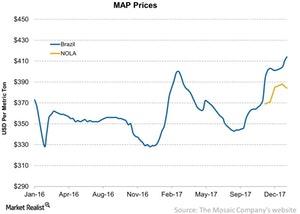 How Did Monoammonium Phosphate Prices Move Last Week?
MAP prices
In the earlier part of this series, we discussed that DAP (diammonium phosphate) prices were broadly mixed week-over-week, while they were much higher year-over-year. MAP (monoammonium phosphate) prices last week also followed the same trend. Let's look at it below.
Article continues below advertisement
Weekly movements
Last week, MAP prices were broadly mixed week-over-week at the two locations in the above chart. In Brazil, MAP prices rose 1% week-over-week to $213 per metric ton from $211 per metric ton. However, in NOLA (New Orleans), MAP prices fell 0.5% week-over-week to $384 per metric ton from $386 per metric ton.
Yearly movements
While the prices last week were mixed at the above locations, prices were broadly higher compared to the same period last year in 2017. For example, in Brazil, the DAP prices rose by as much as 21% from $343 per metric ton a year ago and in NOLA, the prices rose by 18% year-over-year from $325 per metric ton in the corresponding quarter in 2017.
The higher prices for both DAP and MAP continue to be positive for phosphate producers (MXI) such as Nutrien (NTR), Mosaic (MOS), and Israel Chemicals (ICL).
In the next part, we'll discuss the prices of potash fertilizers.