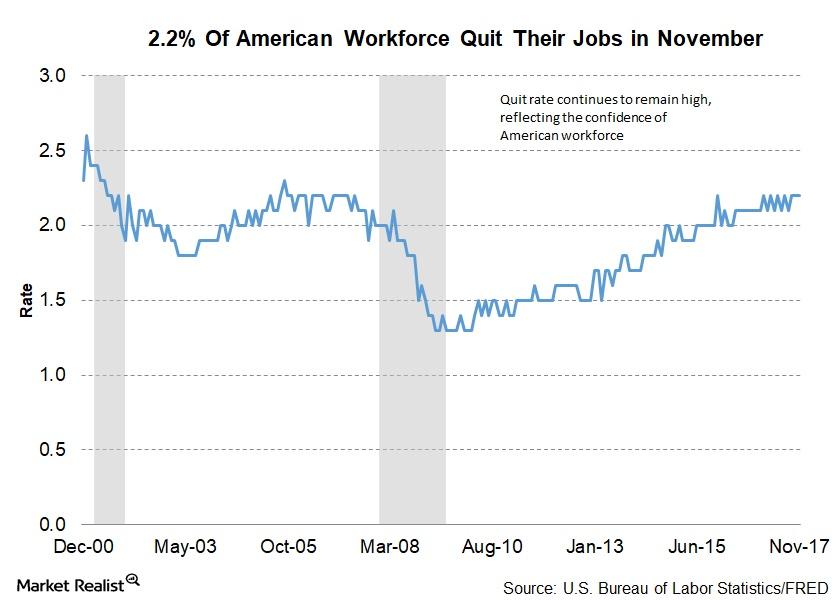 How Many Americans Quit Their Jobs in November?
3.2 million Americans quit their jobs in November 
The "Job Openings and Labor Turnover Survey" (or JOLTS) data for November was reported on January 9 and contains information about job openings and total separations. Total separations include quits, layoffs and discharges, and other separations.
As per the latest JOLTS report, about 3.2 million American workers quit their jobs voluntarily in November. The quit rate for November was 2.2% of the total US workforce. The total separations were reported at 5.2 million. The number of people who quit their jobs is an important metric to consider, as employees usually quit only when there is a better opportunity available. Sudden changes in the number of quits or layoffs can be considered red flags when analyzing a sector.
Article continues below advertisement
What does November quit rate indicate? 
The quit rate of the American workforce has moved closer to the pre-recession levels of 2007. A higher number of employees are quitting their jobs voluntarily, and companies, especially in the skilled sectors, are reporting a shortage in the workforce. In November, the number of employees quitting has increased for the transportation (IYT), warehousing, and utilities sectors to 25,000. The number of quits has decreased in the real estate (XHB) sector by 25,000 and in the mining (XME) and logging (WOOD) sector by 6,000. At a regional level, there weren't any major changes from the previous month.
Which sectors have witnessed high layoff levels?
The JOLTS report said that there were 1.7 million layoffs and discharges in November, which was 1.1% of the workforce. There weren't any major changes at an industry level in this month's report.
To summarize, the employment market in the US continues to be robust. Over the last 12 months to November, the Bureau of Labor Statistics has reported total hires at 64.6 million and total separations at 62.4 million. With a net increase of 2.1 million jobs so far and with the current level of job openings, it's likely that the good health of the US job market is here to stay. Thus, the US Fed might have everything it needs to go ahead with the proposed rate hikes if inflation (TIP) continues to improve.