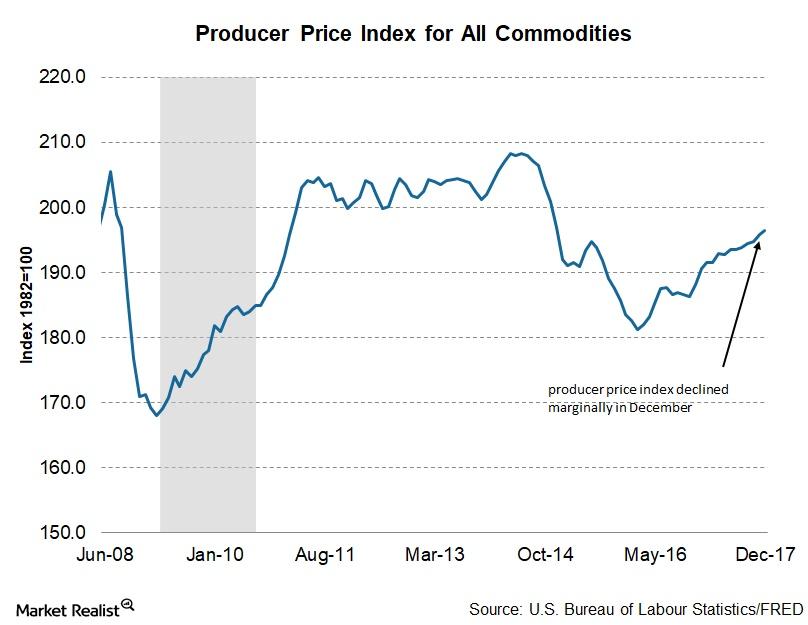 Analyzing the Producer Price Index in December
PPI fell in December
The U.S. Bureau of Labor Statistics releases a monthly report that tracks the price trends in wholesale markets. The manufacturing industries (XLI) in the US are surveyed to collect the required data to construct the PPI (producer price index). It's a weighted average index of prices at the wholesale level. The changes in raw material prices, production levels, and the finished goods inventory are recorded in this report.
The December PPI fell 0.1% month-over-month—compared to a 0.4% increase in November and October. According to the report, on an unadjusted basis, the final demand index rose 2.6% in 2017—a healthy increase from the improvement of 1.7% in 2016.
Article continues below advertisement
Why should you track the PPI?
Equity market (SPY) investors, especially in sectors that are covered by the PPI index survey, should be tracking the changes in the index. The index provides investors with key insights about changes in the industry. From a macroeconomic point of view, an increase in producer prices usually leads to an increase in wholesale prices and eventually inflation (TIP). Depending on the price elasticity of the produced goods, manufacturers (ITA) tend to pass on the costs to consumers. At an improved productivity level, these companies tend to make better margins.
Analyzing December's PPI report
The December PPI report indicated that producer prices fell for the first time in 2017. It isn't a reason to worry because the overall inflation levels in the economy remained above the Fed's 2% target range. The key reason for a decline in the PPI was the decline in food prices. Energy prices (XLE) remained stable despite lower gasoline prices due to compensation by higher heating oil, natural gas, and electric prices.
The bottom line is that prices have remained supportive and could lead to an increase in inflation in the months ahead. This could pave the way for more interest rate hikes from the Fed.
In the next part of this series, we'll analyze the changes in the consumer price index in December.