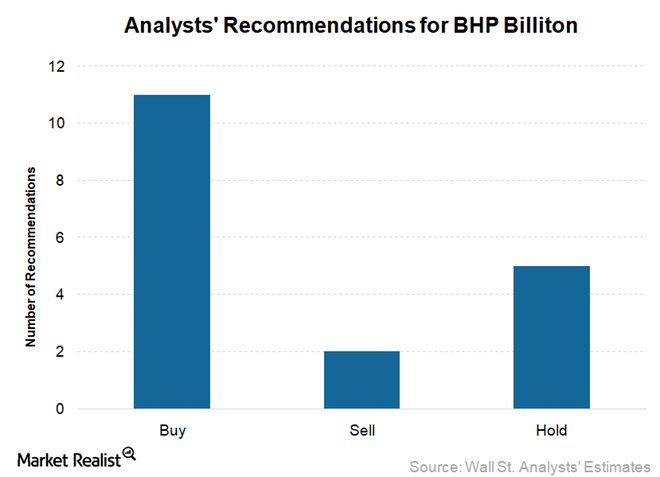 BHP Billiton: Recent Wall Street Upgrades and Downgrades
BHP Billiton's ratings
Of the 18 Wall Street analysts currently covering the BHP Billiton's (BHP) stock, 61% rate it as a "buy," 28% recommend a "hold," and the remaining 11% have a "sell" recommendation on the stock.
The consensus target price for BHP is $30.0, which implies a potential downside of -4.5%, based on its current market price. Like BHP, its peers (XME) Vale SA (VALE), Cleveland-Cliffs (CLF), and Freeport-McMoran (FCX) also have current potential downsides based on their respective target prices.
Recent upgrades and downgrades
Sanford C.Bernstein downgraded BHP's stock from "outperform" to "market perform" on January 22. The firm also reduced its target price for the stock from $49.55 to $47.00.
Cowen raised BHP's target price from $45 to $52 on January 10. The increase in the target price followed a model update. Cowen, however, maintained its "market perform" rating on the stock.
On December 14, 2017, J.P. Morgan (JPM) upgraded BHP from "underweight" to "neutral." JPM analyst Fraser Jamieson sees potential positives in the stock on a possible sale of its US onshore and gas operations. He also believes the company's valuation is in line with its comparable peers.
On September 7, 2017, Exane BNP Paribas downgraded the stock to "underperform" from "neutral."
Raymond James Financial also downgraded BHP to "underperform" from "market perform" on September 1, 2017.
On August 31, 2017, RBC Capital Markets also downgraded BHP from "sector perform" to "underperform." RBC analyst Tyler Broad was mainly concerned about BHP's maturing asset base, which could affect its profitability in the medium term.
Article continues below advertisement