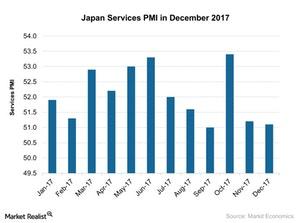 How Japan's Services PMI Trended in December 2017
Japan's services PMI in December
According to a report provided by Markit Economics, Japan's services PMI (EWJ) (DXJ) remained weaker in December 2017. It stood at 51.1 in December as compared to 51.2 in November 2017. It didn't meet the market expectations of 51.5.
The services PMI fell marginally in December as compared to November 2017. The weaker performance was mainly due to the slower improvement in new orders. Though new orders saw the least improvement in 15 months, export orders showed a marginal improvement in December.
The overseas (ACWI) (VTI) client demand was strong. Export orders from China (FXI) (YINN), India (INDA), and other Asian economies improved at a higher rate. Plus, (EWJ) (DXJ) manufacturing activity showed a strong improvement in December 2017, the strongest expansion since February 2014.
Article continues below advertisement
Performance of ETFs
The iShares MSCI Japan ETF (EWJ), which tracks the performance of Japan, increased 0.7% in December 2017. The WisdomTree Japan Hedged Equity ETF (DXJ) rose 2% in December 2017. The improved performances show that investors' confidence remained strong in the equity market. Although the service activity showed some weakness, the overall economic activity remained strong.
In the next part of this series, we'll analyze the performance of US retail sales in December 2017.