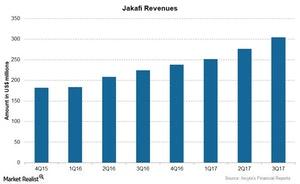 How Incyte's Jakafi Performed in 3Q17
Jakafi
Incyte's (INCY) oncology drug Jakafi (ruxolitinib) is approved for the treatment of myelofibrosis and polycythemia vera, two rare types of blood cancer.
The chart above compares the revenues for Jakafi over the last few quarters.
Article continues below advertisement
Jakafi and its importance
Incyte's team sells the drug Jakafi in US markets, while the development and commercialization rights for Jakafi are licensed to Novartis (NVS) outside US markets. Novartis markets Jakafi under the brand name Jakavi outside US markets.
Jakafi is the first oral JAK inhibitor approved by the FDA, and it's also the first drug approved by the FDA from Incyte's portfolio. Jakafi's patent rights for the composition of matter and the use of the drug are valid up to November 2026, and Incyte has also received an extension on these patents up to late 2027.
Jakafi's revenue
In 3Q17, Jakafi saw revenue of $303.9 million compared to $223.9 million in 3Q16 resulting from its strong sales in US markets. For the first nine months of 2017 (which ended on September 30, 2017), Jakafi brought in revenue of $831.0 million. Analysts expect Jakafi's sales to cross $1.0 billion in 2017.
Incyte reported royalty revenue of $41.3 million from Novartis for Jakavi sales in 3Q17. For the first nine months of 2017, its royalty revenue from Novartis was $104.0 million.
The iShares S&P 500 Growth ETF (IVW) holds 15.5% of its total investments in healthcare companies. IVW holds 0.1% in Incyte, 1.7% in Johnson & Johnson (JNJ), 0.8% in Pfizer (PFE), and 0.6% in Amgen (AMGN).