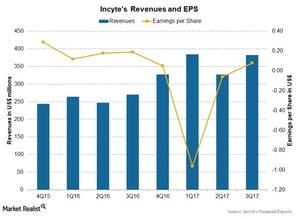 How's Incyte's Valuation in January 2018?
A look at Incyte
Headquartered in Wilmington, Delaware, Incyte Corporation (INCY) is a biopharmaceutical company focused on discovering, developing, and commercializing various products to cater to the unmet medical needs of the oncology and other diseases markets.
The above chart compares Incyte's revenues and EPS (earnings per share) over the last few quarters. The company reported EPS of $0.08 on revenue of $381.5 million in 3Q17 compared to revenue of $269.5 million in 3Q16. In 4Q17, Wall Street analysts expect the company's revenue to rise ~26.7% to $413.8 million compared to its revenue of $326.5 million in 4Q16. For 2017, Incyte's revenue is estimated to be $1.5 billion, a 35.9% rise over its 2016 revenue of $1.1 billion. Now let's take a look at its valuation multiples.
Article continues below advertisement
Forward PE
The PE (price-to-earnings) multiple represents what one share can buy for an equity investor. However, Incyte's PE multiple is too high compared to those of other companies in the biotechnology industry.
On January 5, 2018, Incyte was trading at a forward PE multiple of 339.8x compared to the industry average of ~14.6x. The company is trading at a much higher PE compared to its peers Vertex Pharmaceuticals (VRTX), Alexion Pharmaceuticals (ALXN), and Regeneron Pharmaceuticals (REGN), which are trading at PE multiples of 48.9x, 17.3x, and 22.6x, respectively.
Forward EV-to-EBITDA
On a capital-structure-neutral and excess-cash-adjusted basis, Incyte is currently trading at a forward EV-to-EBITDA (enterprise value to earnings before interest, tax, depreciation, and amortization) multiple of ~213.8x, much higher than the industry average of ~11.8x. Its competitors Vertex Pharmaceuticals, Alexion Pharmaceuticals, and Regeneron Pharmaceuticals are trading at forward EV-to-EBITDA multiples of 43.0x, 13.6x, and 14.5x, respectively.
The iShares US Healthcare ETF (IYH) holds 0.5% of its total investments in Incyte, 0.8% in Alexion Pharmaceuticals, 0.8% in Regeneron Pharmaceuticals, and 1.2% in Vertex Pharmaceuticals.