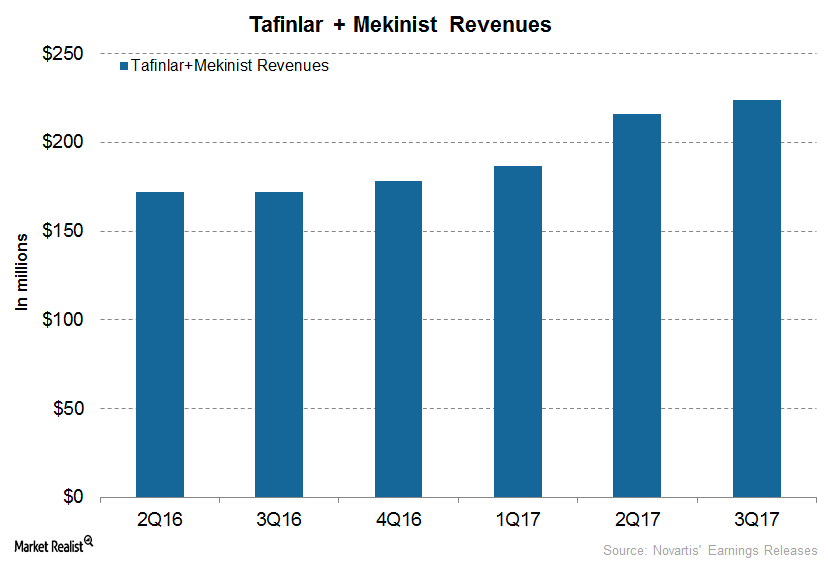 How Is Novartis's Tafinlar+Mekinist Positioned for 2018?
Tafinlar+Mekinist revenue trends
In 1Q17, 2Q17, and 3Q17, Tafinlar+Mekinist saw revenues of $187 million, $216 million, and $224 million, respectively. In 3Q17, Tafinlar+Mekinist witnessed 30% growth on a year-over-year (or YoY) basis and 4% growth on a quarter-over-quarter basis.
Article continues below advertisement
Recent developments
In December 2017, the US Food and Drug Administration (or FDA) accepted Novartis's (NVS) supplemental new drug application (or sNDA) and granted a priority review of Tafinlar+Mekinist as adjuvant therapy in individuals with stage II melanoma with BRAF V600E or V600K mutations after complete resection.
In October 2017, the FDA granted Tafinlar+Mekinist combination a Breakthrough Therapy Designation (or BTD) for the adjuvant treatment of individuals with stage III melanoma with BRAF V600 mutation after complete resection.
The FDA's priority review is based on the results of the phase 3 COMBI-AD trial, which evaluated Tafinlar+Mekinist combination in individuals with stage III melanoma with BRAF V600E/K mutation-positive after complete resection.
The COMBI-AD trial met its primary endpoint by demonstrating a significant reduction in the risk of disease recurrence or death by 53% compared to the placebo. In the COMBI-AD trial, Tafinlar+Mekinist also demonstrated statistically significant improvements in the key secondary endpoint of overall survival.
Presently, Tafinlar+Mekinist combination therapy is indicated for the treatment of individuals with unresectable or metastatic melanoma with a BRAF V600E/K mutation and non-small cell lung cancer with BRAF V600E mutation.
Melanoma incidence
Around 200,000 new melanoma cases are diagnosed each year with around half of the patients demonstrating BRAF mutations. Some important drugs in the melanoma drugs market include Roche's (RHHBY) Cotellic and Zelboraf, Amgen's (AMGN) Imlygic, and Merck's (MRK) Keytruda. The growth in the sales of Novartis's Tafinlar+Mekinist could boost the First Trust Value Line Dividend Index Fund (FVD). Novartis makes up about ~0.54% of FVD's total portfolio holdings.