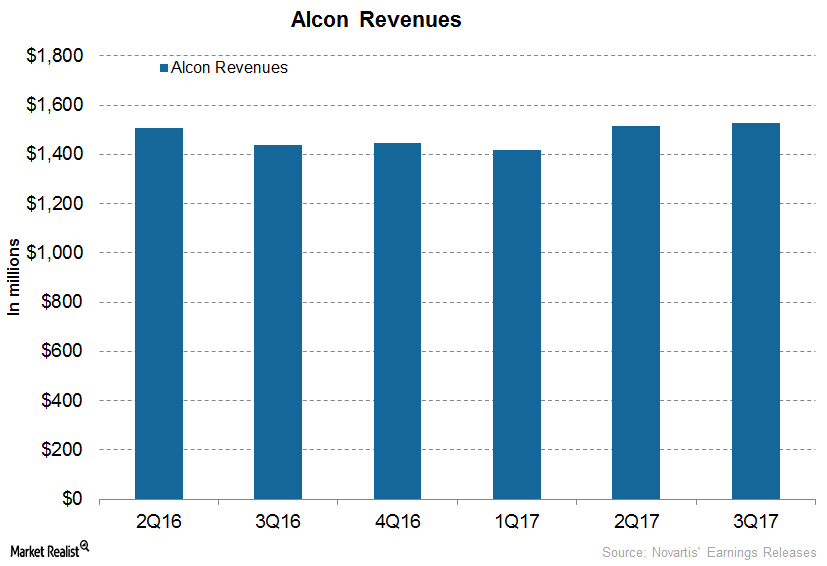 What to Expect for Novartis's Subsidiary Alcon in 2018
Alcon revenue trends
In 1Q17, 2Q17, and 3Q17, Novartis's (NVS) subsidiary Alcon generated revenues of $1.4 billion, $1.5 billion, and $1.5 billion, respectively. In 3Q17, Alcon witnessed 6% growth on a YoY basis and 1% growth on a quarter-over-quarter basis.
Article continues below advertisement
Article continues below advertisement
Recent developments
In October 2017, Alcon presented data to support Alcon AcrySof monofocal intraocular lenses (or IOL) as a safe and effective way to diminish common complications after cataract surgery.
The data from the latest study demonstrated that cataract patients who were implanted with an AcrySof monofocal IOL are less likely to develop posterior capsule opacification (or PCO) or to require a Nd:YAG (neodymium-doped yttrium aluminum garnet) laser therapy to correct PCO after cataract surgery compared to those implanted with a non-AcrySof monofocal hydrophilic or hydrophobic IOL.
Scientists analyzed data from 52,162 IOL implantations performed at different clinical trial centers. In October 2017, Alcon presented data from the COMPASS and CyCLE clinical trials, which evaluated the safety and efficacy of CyPass MicroStent, a micro-invasive glaucoma surgical (or MIGS) device for the treatment of cataract patients with mild-to-moderate primary open-angle glaucoma.
One of the new analyses demonstrated that at 24 months, best-corrected visual acuity (or BCVA) results were comparable between the control group and CyPass group at all time points during the study. Also, among patients who achieved the primary endpoint, 93% didn't use ocular hypotensive medication at 24 months compared to 72.4% patients in the control group.
Alcon's peers in the eyecare market include Valeant Pharmaceuticals (VRX), Allergan (AGN), and Johnson & Johnson (JNJ). In 3Q17, Valeant Pharmaceuticals, Allergan, and Johnson & Johnson reported revenues of $2.2 billion, $4.0 billion, and $19.7 billion, respectively. The revenue growth of Novartis's subsidiary Alcon could boost the Vanguard International Dividend Appreciation ETF (VIGI). Novartis makes up about ~2.8% of VIGI's total portfolio holding.