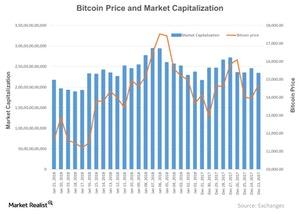 How Is Bitcoin Faring after Last Week's Slump?
Bitcoin price movements
Bitcoin was marginally down on Monday, January 22, to $11,813 as of 6:00 AM EST. It had dropped about 1.6% over the past 24 hours. It touched a high of $12,613 on Sunday, January 21. Bitcoin saw a quick recovery after its slump below $10,000 during the last week. Many analysts think that bitcoin could find some support at the $11,500 mark. However, its prices have been highly volatile.
The market capitalization of bitcoin has fallen to almost $198 billion. It has a dominance of 34.6% over other cryptocurrencies in the market. The total market capitalization for the cryptocurrency market was almost $574 billion.
Article continues below advertisement
Indian government urges caution
Indian banks (INDL) (SMIN) (SCIF) are scrutinizing accounts tied to bitcoin trade. The Indian government warned investors against investing in bitcoin (ARKW) and called it a Ponzi scheme. Koinex, a cryptocurrency exchange based in Mumbai, said that the banks were bottlenecking transactions and thus forcing the exchange to temporarily suspend business. The finance ministry is working on measures to curb bitcoin trade.
Bitcoin to gold
Investors (SPX-INDEX) around the world looked to gold (GLD) (IAU) for the rescue during the slump in bitcoin prices. Sales data showed that gold coin buying surged almost five times higher last week. Some experts, however, continue to be optimistic about the cryptocurrency and predict that it may have a good longer-term outlook.
Some other cryptocurrencies that have also fallen over the past 24 hours include ethereum, ripple, bitcoin cash, and cardano, which were down 0.36%, 3.7%, 3.5%, and 1.8%, respectively. SIRIN LABS token and cindicator were among the top gainers with rises of 82.6% and 57.8%, respectively, over the past day.