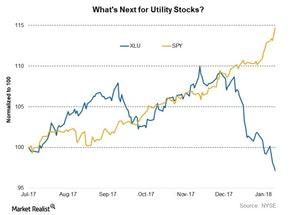 How Are Utilities' Dividend Yields and Valuations Trending?
Dividend yield
Utilities' dividend yields have started looking even more attractive after their recent fall. Currently, broader utilities (XLU) are trading at a dividend yield of 4.4% against broader markets' average dividend yield of around 1.7%.
As portrayed in the chart below, utilities were tracking broader markets (SPX-INDEX) (SPY) until December last year. But, after the interest rate hike and the Senate voting on tax reforms, utilities began losing steam. The gap widened in the new year.
You can read about top utilities' dividend profiles in Analyzing the Largest S&P 500 Utilities' Dividend Profiles.
Article continues below advertisement
Valuation
US utility stocks are presently trading at an EV-to-EBITDA valuation of around 10.5x. They still appear expensive compared to their historical average. Their five-year historical EV-to-EBITDA average is ~8x–9x. Utilities' (IDU) (VPU) price-to-earnings multiple is near 16x, while the historical average stands below 15x.
You can compare top utilities' performance and see how they are positioned for 2018 in Market Realist's series, NEE, DUK, D, and SO: How Have the Top Utilities Fared Last Year?