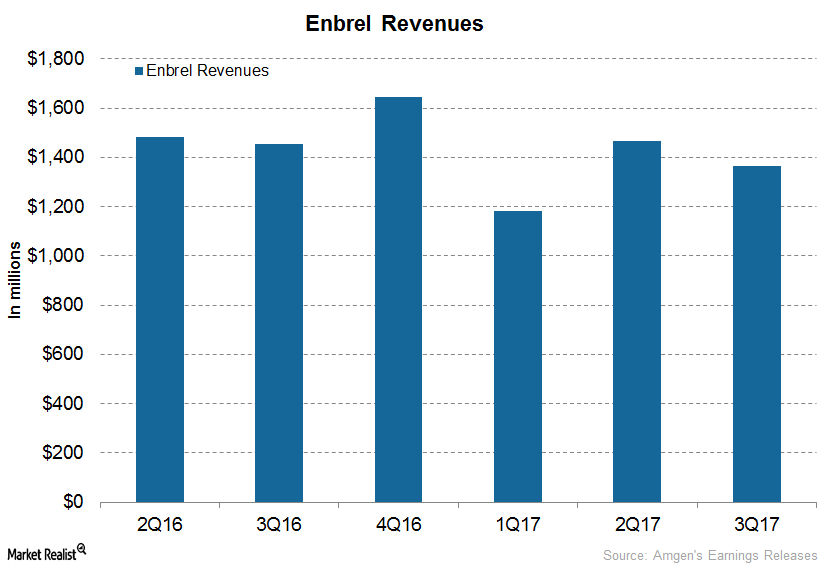 How Amgen's Enbrel and Nplate Are Positioned for 2018
Enbrel's revenue trends
In 1Q17, 2Q17, and 3Q17, Amgen's (AMGN) Enbrel generated revenues of ~$1.2 billion, ~$1.5 billion, and ~$1.4 billion, respectively.
Article continues below advertisement
Launch of Enbrel's Mini single-dose cartridge
In November 2017, Amgen made available the Enbrel Mini with AutoTouch in the United States. The new delivery system received the Arthritis Foundation Ease of Use award and provides an easy administration option for Enbrel patients.
Amgen's AutoTouch is a reusable injector to be used along with Enbrel Mini single-dose prefilled cartridges (50 mg/mL). The Enbrel Mini single-dose cartridges use a novel drug formulation of Enbrel that was related to significantly lower mean injection site pain compared to the currently available formulation.
In September 2017, the FDA approved Amgen's Enbrel Mini with AutoTouch. Presently, Enbrel is approved for psoriatic arthritis, moderate-to-severe plaque psoriasis, moderate-to-severe rheumatoid arthritis, moderate-to-severe polyarticular juvenile idiopathic arthritis, and ankylosing spondylitis.
Enbrel competes with AbbVie's (ABBV) Humira, Pfizer's (PFE) Celebrex, Bristol-Myers Squibb's Orencia, and Johnson & Johnson's (JNJ) Remicade. In 3Q17, Humira, Celebrex, and Remicade reported revenues of $4.7 billion, $212.0 million, and $1.6 billion, respectively.
Nplate's revenue trends
In 1Q17, 2Q17, and 3Q17, Amgen's Nplate generated revenues of $154.0 million, $164.0 million, and $159.0 million, respectively.
In November 2017, Amgen's Nplate received a positive recommendation from the European Medical Agency's (or EMA) CHMP[1. Committee for Medicinal Products for Human Use] for label expansion of Nplate to include the treatment of chronic immune thrombocytopenic purpura in individuals aged one year and older who are refractory to other therapies.
The positive recommendation from the EMA's CHMP was based on the results from the five clinical trials, which evaluated the safety and efficacy of Nplate in children with immune thrombocytopenic purpura. Four clinical trials have been completed, and one clinical trial is ongoing to evaluate the long-term safety and efficacy.
Amgen comprises ~4.1% of the Health Care Select Sector SPDR ETF's (XLV) total portfolio holdings.