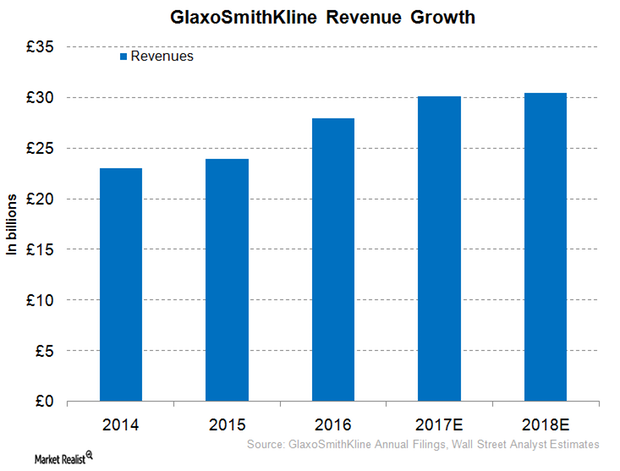 GlaxoSmithKline Could Witness Modest Rise in Revenues in 2017
Respiratory market focus areas
GlaxoSmithKline (GSK) is a leading player in the global respiratory market with a major focus on the asthma and chronic obstructive pulmonary disease (or COPD) segments. The company has estimated global asthma prevalence to be around 250 million with 40% of the treated patients continuing to witness symptoms that affect the quality of their lives. To capitalize on this unmet demand, GlaxoSmithKline aims to deliver the right inhaled corticosteroid (or ICS) or combination regimen to the right patients and to ensure proper drug adherence.
Article continues below advertisement
Through novel biologics like Nucala, the company is also focusing on reducing the frequency of exacerbations in severe asthma patients. In the COPD segment, GlaxoSmithKline is focused on reducing symptoms of patients, reducing the frequency of exacerbations that can result in permanent lung injury, as well as decreasing the rate of disease progression. GlaxoSmithKline makes up about 1.1% of the Vanguard FTSE Developed Markets ETF's (VEA) total portfolio holdings.
Modest rise in revenues
Wall Street analysts have projected GlaxoSmithKline's full-year 2017 revenues to be around 30.1 billion pounds, which is year-over-year (or YoY) growth of around 7.8%. The modest rise in revenues is attributed to the sales of the company's Ellipta portfolio and Nucala offsetting the declining revenue trajectory of older respiratory products such as Advair. Though the recently launched respiratory products gained traction in the US in 2017, GlaxoSmithKline continues to face increased pricing pressures in the form of higher rebates and discounts demanded for its older products. Payer consolidation, anticipated market entry of generic Advair, and the ongoing transition to the recently launched respiratory products are expected to continue to pose a challenge to the company's revenue growth trajectory in 2018.
Peers such as Novartis (NVS), Perrigo (PRGO), and Pfizer (PFE) are expected to report revenues close to $49.2 billion, $4.9 billion, and $52.5 billion, respectively, for fiscal 2017.
In the next article, we'll discuss growth trends for GlaxoSmithKline's respiratory segment in greater detail.