The Effects of Flat Manufacturing Production Hours
The average work week The US Bureau of Labor Statistics' establishment survey includes data on the number of hours worked by manufacturing employees. Changes in the number of working hours help investors assess the health of the sector. A rise in the number of working hours signals that companies are projecting higher demand in the manufacturing sector […]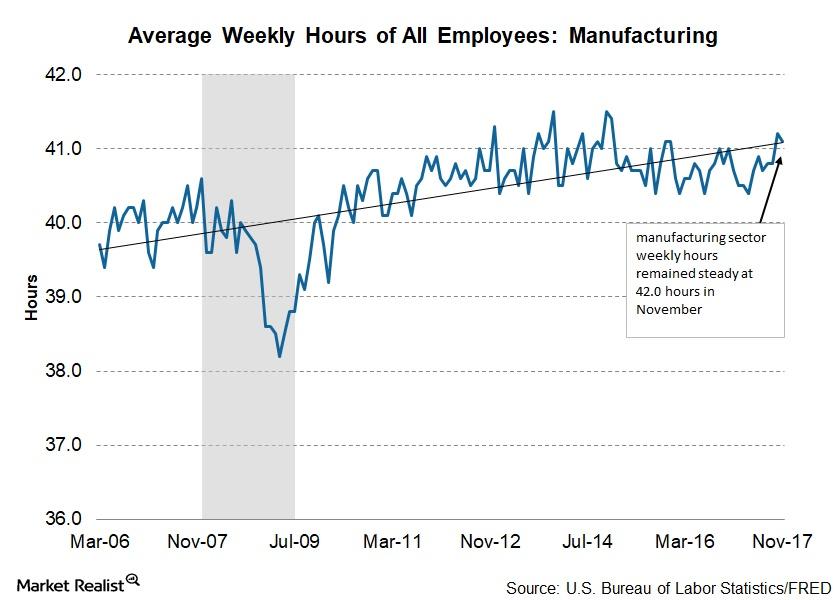 The average work week
The US Bureau of Labor Statistics' establishment survey includes data on the number of hours worked by manufacturing employees. Changes in the number of working hours help investors assess the health of the sector. A rise in the number of working hours signals that companies are projecting higher demand in the manufacturing sector (FXR). Between 2016 and 2017, the average number of working hours improved by a small margin. An increase in the number of working hours is a positive economic sign.
Article continues below advertisement
Article continues below advertisement
Average weekly hours unchanged in November
According to the latest data, in November, production workers' average working hours were unchanged from the previous month's reading of 42.0 hours. September's average weekly hours were revised higher, from 41.8 to 41.9. This economic indicator did not contribute to changes in the November Conference Board LEI (Leading Economic Index), as there was no change in the number of work hours.
Key industries and ETF performance
The SPDR Industrial Select Sector ETF (XLI) is a major fund investing in the manufacturing sector. On November 30, 2017, it posted a year-to-date return of 21.3%, a steep rise from its average annualized return of 8.4% since its inception. Most companies in this sector are trading at the higher end of their 52-week range, except General Electric (GE), whose stock performance has dwindled since the announcement of its turnaround plan in November 2017.
Within the industrial sector, the machinery, aerospace and defense (ITA), and road annd rail (XTN) spaces had the best year-to-date returns, topping 30%. Favorable tax reform and the possibility of industry-friendly policies signal a healthy 2018 for the sector. In the next part of this series, we'll analyze the impact of weekly jobless claims on the Conference Board LEI.