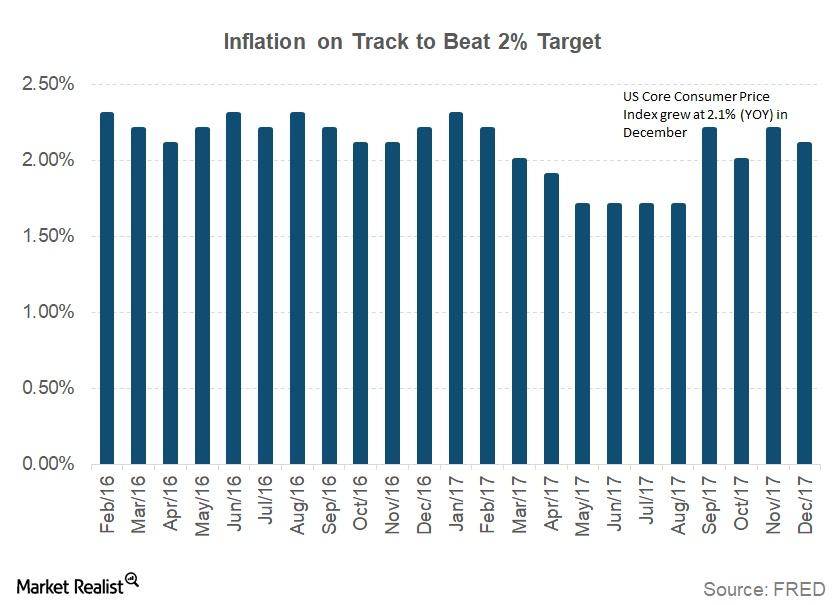 Why Did the Consumer Price Index Rise in December?
December's CPI
The CPI (consumer price index) measures the price changes at a consumer level. The PPI (producer price index), which we discussed in the previous part, tracks the prices at a wholesale level. The CPI is a weighted average price of a basket of goods and services at the consumer level. It includes food, medical care (XLV), transportation, housing, apparel, recreation, education and communication, and other goods.
According to the December CPI report released by the U.S. Bureau of Labor Statistics on January 12, consumer prices in December increased 0.1% and closed 2017 with an overall increase of 2.1%.
Article continues below advertisement
Why the CPI is important
The CPI tracks changes in the prices that consumers pay. The Fed set a price increase target of 2%, which it thinks is an optimal increase in prices to keep the economy's momentum going. A stagnant or declining level of prices could force consumers to delay their purchases and lead to an economic slowdown, job losses, and eventually a recession.
A closer look
In 2017, consumer prices (TIP) increased 2.1%—the same level as 2016. The key takeaway was the impressive 2.6% increase in the CPI (VTIP) annual rate in the last three months. It's a positive signal that inflation (SCHP) is moving above the 2% target that the Fed set for itself.
Core inflation, which excludes volatile food and energy prices, increased 0.3% month-over-month in December and 1.8% in 2017. The key contributors to the increase in core prices in December were housing (XHB) and services. Both of these components are important contributors to core inflation. Their continued appreciation could lead to a higher inflation rate in 2018.