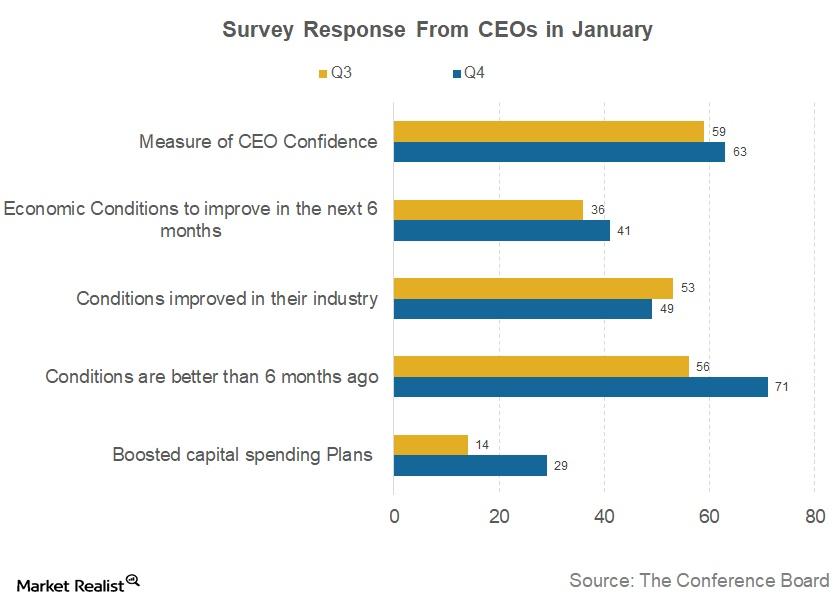 Conference Board CEO Confidence Survey Signals Price Rise in 2018
By Ricky Cove

Jan. 31 2018, Updated 4:20 p.m. ET
The Conference Board CEO Confidence Survey
The Conference Board CEO Confidence Survey is a quarterly report based on a survey that collects responses from approximately 100 CEOs from various industries. The data collected cover the CEOs' attitudes and expectations for the economy and their respective industries. The CEOs surveyed represent companies from manufacturing (IYJ), durable and non-durable goods, and services (VCR) industries.
The Conference Board CEO Confidence Index was reported to have increased from 59 in the third quarter to 63 in the fourth quarter, which means 63% of the respondents have a positive outlook.
Article continues below advertisement
Excerpts from the January CEO Confidence Report
The CEO Confidence Survey indicated that CEOs assessed the current economic conditions to have improved considerably. About 71% of the CEOs felt that economic conditions in the United States have improved in the last six months compared to 56% in the previous quarter. When it comes to their own industries, the CEOs were less optimistic, with only 49% saying that conditions in their own industry had improved. The recent announcement of tax cuts and the possibility of further de-regulation in lending have made the CEOs upbeat about the short-term prospects in their industries over the next six months.
The key insight from this report was that 60% of the CEOs surveyed indicated that their product's selling price could increase up to 4%. About 18% of the CEOs said that prices could increase more than 4% in 2018.
Global outlook of CEOs
According to Lynn France, director of economic indicators at the Conference Board, the CEOs were optimistic about the outlook for developed as well as developing markets. They were, however, highly optimistic about the US economy. In the global markets, CEOs assessed the current conditions in the United States (SPY), China, and Brazil to have rebounded sharply, and conditions in Japan (EWJ) and India (INDL) to have declined slightly. The CEO Confidence Survey indicates that the underlying economic conditions in the US economy are set to improve further in 2018.