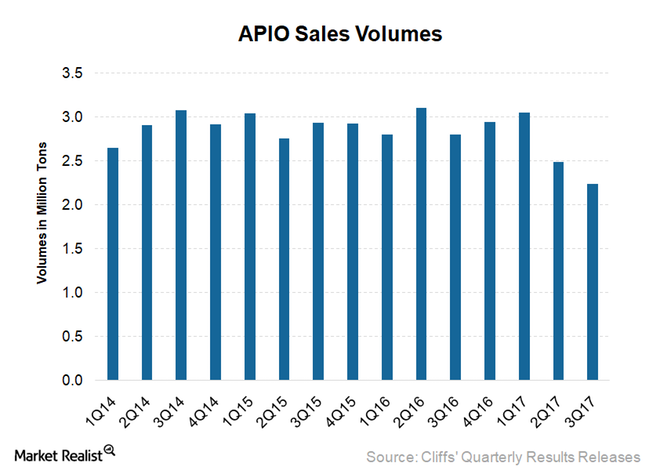 What to Expect from Cleveland-Cliffs' Asia-Pacific Segment
Asia-Pacific Iron Ore division
While Cleveland-Cliffs' (CLF) Asia-Pacific Iron Ore (or APIO) segment doesn't contribute much to its revenues and earnings, it still accounts for a lot of it stock price movements through changes in the seaborne iron ore prices.
Through this division, CLF directly competes with the seaborne iron ore giants (PICK) such as BHP (BHP), Rio Tinto (RIO), Vale (VALE), and Fortescue Metal (FSUGY). Together, these four miners control more than 70% of seaborne iron ore production.
Article continues below advertisement
Realized prices versus benchmark
Iron ore prices have been very volatile lately. While the prices fell substantially in September 2017, they picked up after that. Currently, iron ore prices are trading close to ~$80 per ton, almost the highest level in close to five months. The recent bout of strength is mainly due to China's efforts to remove steel production capacity, leading to higher prices.
Will stock continue attracting discounts?
In addition to higher prices, one important thing to note regarding Cliffs' realized prices in this division is its lower-than-benchmark iron ore content, which is currently trading at a high discount to benchmark prices. China's switch from low-quality, high-impurity domestic iron ore to high-quality imported iron ore has led to the widening of this differential.
In 4Q17 and beyond, the company is expected to attract discounts on benchmark prices, which will lead to lower realized prices as compared to the benchmark. The company is expecting to continue producing at APIO until it reaches the end of its mine life, as long as it can achieve break-even EBITDA (earnings before interest, tax, depreciation, and amortization) or above.