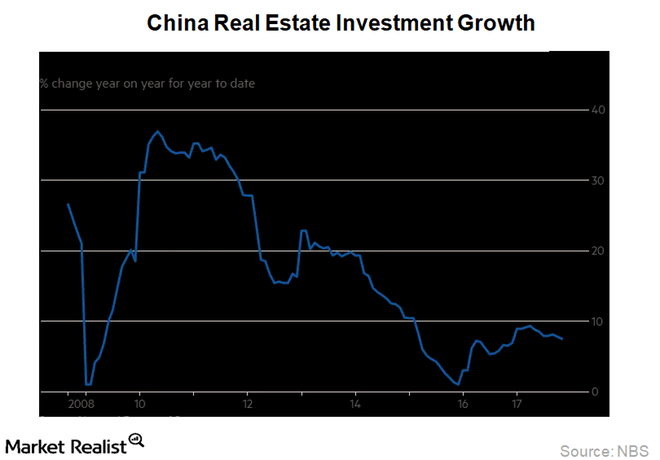 China's Steel Demand Indicators: A Slower 2018?
China's property sector
To understand the usage outlook for steel in China, we'll analyze China's property and auto sector sales in this article. China's property sector is a steel-intensive market—consuming approximately 50% of overall steel in the country—followed by the automotive industry.
The recent indicators from China are signaling a slowdown in the Chinese property market. While the Chinese real estate investment grew 7.8% for the January–October 2017 period, its growth slowed to 7.5% in the first 11 months of the year. The rate of growth in November 2017 was the slowest in almost a year.
Housing prices continued to cool down in November. The prices in 20 out of 70 cities monitored either fell or remained unchanged compared to the previous month. In the remaining 50 cities, prices rose less than 1.0%.
Article continues below advertisement
Article continues below advertisement
China's auto sales
China's auto sales have also been on a slower growth path in 2017 compared to 2016. In November 2017, auto sales grew just 0.7% year-over-year (or YoY) to ~3.0 million units. For the first 11 months of 2017, total vehicle sales grew 3.6%. This is significant decline considering the growth rate of 15% registered for fiscal 2016.
The strong growth in 2016 was driven by a temporary sales tax cut from 10.0% to 5.0%. The tax cut is still applicable in 2017 but at a higher rate of 7.5%. In 2018, the rate is scheduled to revert to 10.0%.
The China Association of Automobile Manufacturers originally forecast growth of 5.0% in total vehicle sales for 2017, which has been downgraded to 3.5%.
Slower-than-expected demand in the property and auto sectors could come as a shock to iron ore miners (PICK) such as Rio Tinto (RIO), Vale (VALE), BHP (BHP), and Fortescue Metals Group (FSUGY). Although Cleveland-Cliffs (CLF) contribute a very small portion to the overall seaborne iron ore trade, its stock is impacted by the changes in the iron ore prices.