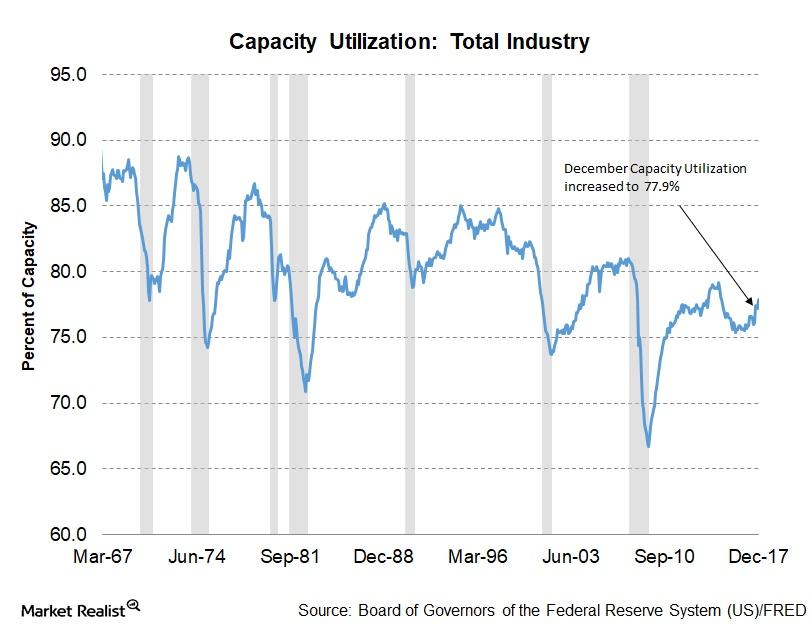 Capacity Utilization Trends across US Industries in December
Capacity utilization and the US economy
Among the key macroeconomic indicators published by the Federal Reserve, US industries' capacity utilization is particularly important for understanding the health of each industry. Changes to this indicator can help forecast any changes to the business cycle, product demand, and workforce demand. Increasing levels of capacity utilization could translate to a higher number of jobs and a possible increase in capacity through capital spending.
Article continues below advertisement
Capacity utilization, as the name suggests, is the percentage of capacity utilized of total potential output. In the United States, the historical average for capacity utilization stands at 79.9%. Only the durable goods manufacturing (XLU) and the electrical equipment (VPU), appliance, and component industries have higher-than-average capacity utilization.
Capacity utilization in December
According to the Fed's industrial production and capacity utilization report, December's total industry capacity utilization was 77.9%, compared with 77.2% in November. For durable goods (IGF), utilization increased by 0.1% to 76.1%, and for the mining (PICK) sector, it improved by 1.2% to 85.6%.
Why investors need to track production and capacity utilization
Capacity utilization and industrial production are among the most important indicators in understanding the business cycle. Consistent improvement in industrial production and capacity utilization is a positive sign for the US economy and improves the outlook for any sector. With the US administration looking at introducing tariffs, it is possible that the manufacturing (XLI) sector could witness increased production and utilization levels in 2018.