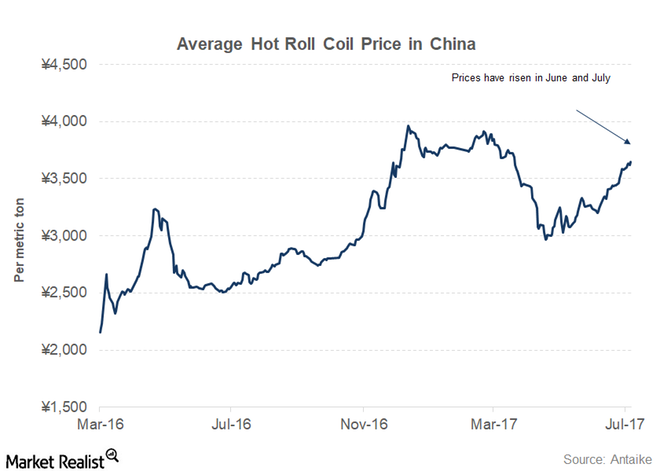 How China's Steel Prices Can Support Iron Ore in 2018
China's steel prices
We've previously discussed how Chinese steel mills have increased their production in 2017 to take advantage of higher steel prices. In this article, we'll discuss how the steel prices have performed in recent months. We'll also see what it could mean for its future outlook.
Article continues below advertisement
Steel prices firming
Chinese steel prices have remained firm in 2017 due to strong steel demand as well as shutting down less efficient steel capacity. The government's efforts to cut steel capacity for winter months is also supporting prices.
According to Reuters, due to the government's efforts to fight pollution in winter months, steel prices in China have hit a nine-year high in the first week of December 2017. It added that this was true "amid tighter supplies and unexpectedly healthy demand, especially in east and southern China."
The Head of Research at Metal Bulletin Research, Alistair Ramsay, however, stated that he expects the steel prices to decline from current levels.
Impact on mining companies
While there could be a small correction in the short term, the restocking activity after winter's cuts should support steel prices as well as iron ore prices. This trend could be positive for seaborne suppliers (PICK) such as Rio Tinto (RIO), BHP (BHP) (BBL), Vale (VALE), and Cleveland-Cliffs (CLF).