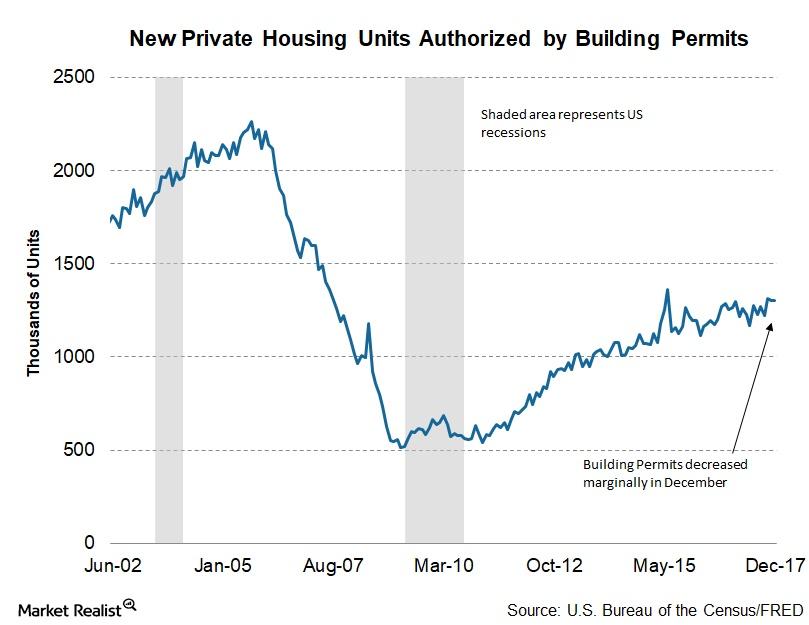 Why Building Permits Didn't Change in December
Housing industry and building permits
The US Census Bureau and Department of Housing and Urban Development report monthly data on building permits issued in the US. The US housing industry's (REM) health can be accessed by observing changes in the number of permits issued each month. An increase in the number of building permits is considered to be a positive sign for the housing sector (ITB). The time lag between issuing the permit and construction starting makes the indicator have a lower predictive power compared to housing starts.
According to the latest report, in December 2017, housing units (XHB) authorized by building permits were at a seasonally adjusted rate of 1.302 million—a decrease of 0.1% from the revised November reading of 1.303 million.
Article continues below advertisement
Single-family versus multi-family housing permits
The trend of increasing applications for single-family units continued in December. The number of permits for single-family homes increased 1.8% to 881,000 units—compared to a revised November reading of 865,000 units. The building permits for multi-family units (apartments) declined to 382,000 units—compared to 395,000 units in November.
For 2017, 1,263,400 housing units have been authorized by building permits—a 4.7% increase from 1,206,600 housing units in 2016.
Housing sector's outlook
Increasing demand for single-family homes is a positive sign for the housing sector. Homebuilders (DHI) are confident about future demand. The reduction in the mortgage interest deduction from $1 million to $750,000, which was introduced in the recent tax bill, only impacts new mortgages. It shouldn't have a major impact on the housing sector (PKB). The current level of housing permits points to a continued improvement in construction activity. The level of housing permits projects a positive outlook for the industry.
Next, we'll analyze why existing home sales declined in December.