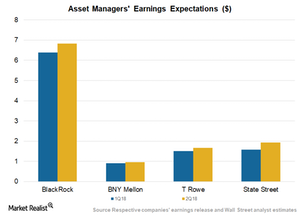 BlackRock and Competitors Look at Strong 1Q18 Numbers
Peer performance in 1Q18
Asset managers (VFH) are expected to see a strong start to 2018 amid earnings expectations and the benefit of tax rate cuts, which were partially offset by steep valuations. The managers with diversified offerings across product and asset classes can garner high growth rates in 2018.
Among the major asset managers, BlackRock (BLK) is expected to post sequential and year-over-year growth in earnings per share (or EPS) to $6.38 in 1Q18 and $6.83 in 2Q18, compared with $5.25 and $5.24, respectively, in 1Q17 and 2Q17.
Institutions are placing bets on alternatives, multi-asset offerings, and debt-related offerings. Retail institutions seem to prefer debt and multi-asset options.
Plus, iShares dominated the ETF space and looks to add more than $50 billion in new flows. The company is expected to post revenues of ~$3.3 billion in 1Q18, a 15.5% rise year-over-year.
Article continues below advertisement
Industry placement
Among BlackRock's peers, The Bank of New York Mellon (BK) is expected to post EPS of $0.96 in 1Q18 compared to $0.83 in 1Q17. BK expects to see a sequential rise in EPS by $0.05, mostly due to relatively higher flows toward various product offerings and expected growth in holdings.
The Bank of New York Mellon is expected to see revenues of ~$4.0 billion in 2Q18—an increase of 5.7%—helped by higher rates, assets under management, and base fees.
T. Rowe Price (TROW) is also expected to see a sequential as well as a year-over-year increase in EPS to $1.67 in 1Q18, compared to $1.50 in 1Q17. This increase is expected to result from new flows toward fund offerings and the rising valuation of holdings. Its revenues are expected to rise 15.3% in 1Q18, reflecting growth in base fees.
State Street Advisors (STT) is expected to post EPS of $1.57 and $1.93 in 1Q18 and 2Q18, respectively. The company's major drivers for performance have been ETFs and index-backed offerings.