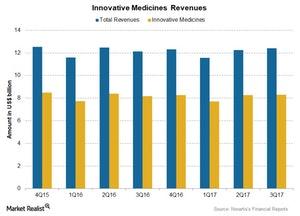 Behind Novartis's 4Q17 Estimates: Innovative Medicines
Innovative Medicines
Novartis's (NVS) Innovative Medicines segment includes cardio-metabolic products, oncology products, immunology and dermatology products, respiratory products, neuroscience products, and established products.
The above chart compares revenues from the Innovative Medicines segment and the total revenues for Novartis for the past few quarters. The segment's contribution is ~67% of NVS's total revenues.
Article continues below advertisement
Key innovative medicines
The Innovative Medicines segment is expected to report growth in operating revenues for 4Q17, following the rise in the sales of Jakavi, Kisqali, Exjade-Jadenu, Tasigna, Tafinlar and Mekinist, Promacta-Revolad, and other oncology products. This growth should also be driven by Systane and Lucentis from the ophthalmology products portfolio, Ultibro Breezhaler and Xolair from the respiratory products portfolio, and Gilenya from the neurology portfolio.
Ilaris, Cosentyx, and Zortess-Certican in the immunology and dermatology product portfolio should also drive growth in this segment, in addition to Entresto and other cardio-metabolic products and Galvux and Exforge from the established products portfolio.
Gilenya and Cosentyx
Gilenya, an oral therapy for multiple sclerosis, is the largest-selling drug among Novartis's products. Gilenya's revenues are expected to increase following the strong demand for the drug in both the US and outside of US markets in 4Q17.
Cosentyx, a drug for the treatment of plaque psoriasis, spondylitis, and psoriatic arthritis, is another blockbuster drug from Novartis's products. Cosentyx's revenues are expected to rise, driven by the strong demand for the drug across all its indications during 4Q17.
Tasigna, Lucentis, and Tafinlar-Mekinist
Tasigna, another blockbuster drug, is used in the treatment of chronic myeloid leukemia. Tasigna's revenues are expected to rise on strong demand for the drug in both the US and outside of US markets during 4Q17. Lucentis, an ophthalmology drug, is expected to report growth in revenues in 4Q17, also driven by strong demand.
The Tafinlar-Mekinist combination is used for the treatment of BRAF V600+ metastatic melanoma, and the revenues for this drug combination are expected to rise on its strong performance in all major markets worldwide.
Notably, the PowerShares International Dividend Achievers ETF (PID) has 9.0% of its total investments in healthcare companies. PID has 1.3% in Novartis AG ADR (NVS), 1.5% in Sanofi ADR (SNY), 4.7% in Teva Pharmaceuticals ADR (TEVA), and 1.0% in Novo Nordisk ADR (NVO).