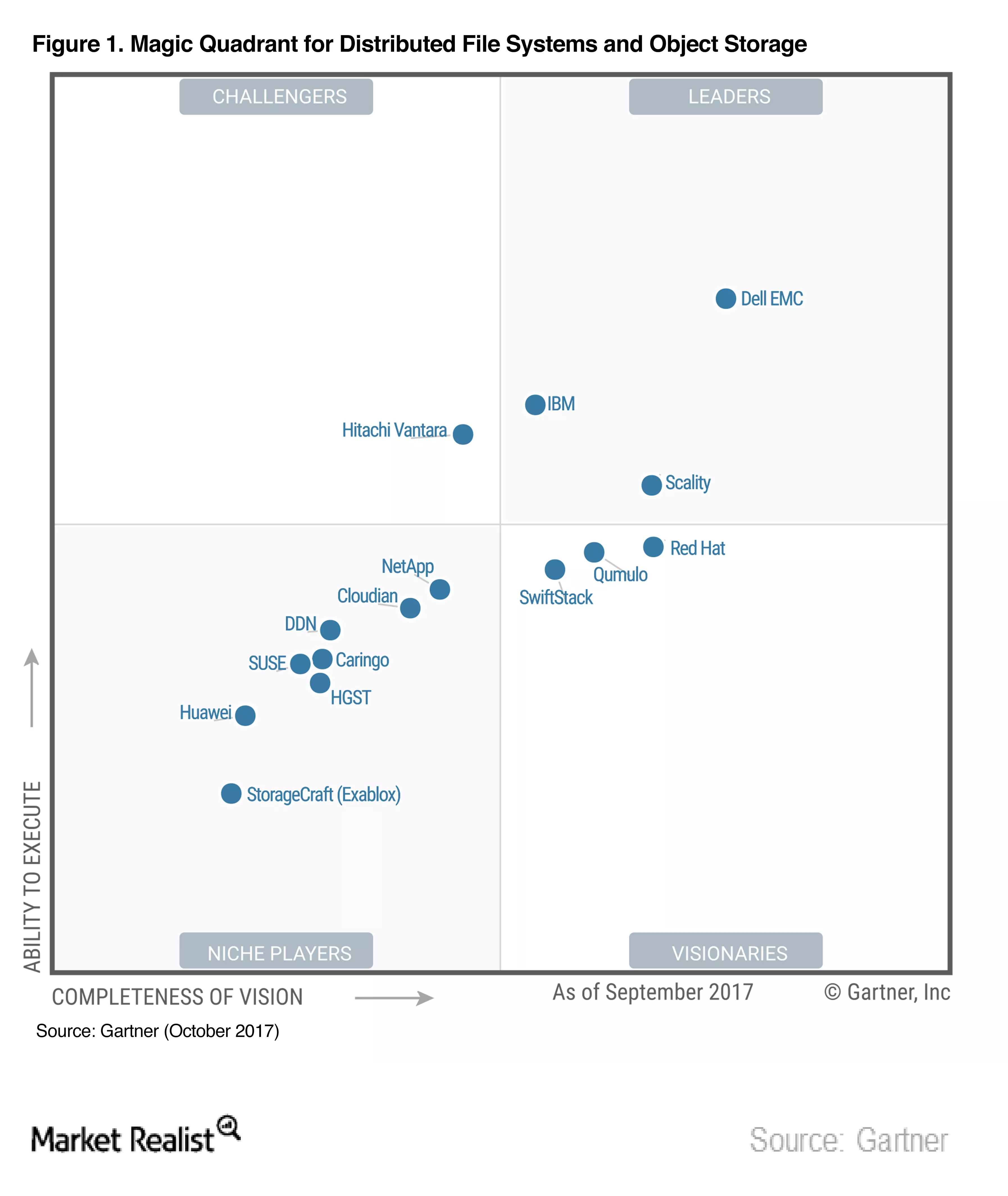 Western Digital's Brand Named in Gartner's Magic Quadrant
HGST named as a niche player in magic quadrant
In September 2017, Western Digital's (WDC) brand HGST was named in Gartner's Magic Quadrant for Distributed File Systems and Object Storage as a niche player. The other companies identified as niche players include NetApp (NTAP) and China's (FXI) Huawei. IBM (IBM) and Dell-EMC were named as Leaders.
Gartner is optimistic about HGST's completeness of vision and ability to execute. It noted that it is essential for enterprise and cloud-scale data centers to deploy scalable storage architectures driven by growing demand.
According to Phil Bullinger, Western Digital's general manager for Data Center Systems Business, these architectures would deliver data management and integrity at a lower cost.
Bullinger stated, "Our ActiveScale System provides the foundation for 'Data Forever' environments, simplifying the management of unstructured data for Big Data analytics, backup and archive.
"By offering easy to deploy software defined storage systems, we enable our users to shift their focus and investments from infrastructure to extracting value from data, so that they can be more competitive."
Article continues below advertisement
Data growth is expected to rise 50% YoY
Gartner has estimated data to grow at a CAGR[2. compound annual growth rate] of 50% YoY (year-over-year). Companies are expected to develop on-premise storage products to address the demand for digital businesses as well as lower operational costs.
The report added that more than 80% of enterprise data could be stored in scale-out storage systems in cloud data centers by 2021. This figure currently stands at 30%.
Western Digital expects its scale-out solution, the ActiveScale System, to manage data for enterprises. The ActiveScale system can scale up to 5.8 PB (petabytes) of raw data and enables enterprises to utilize long-term data storage.