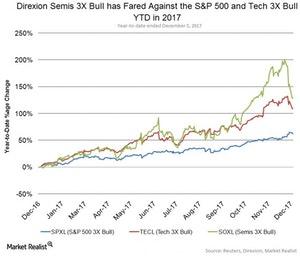 Why US Technology Stocks Have Outshone in 2017
Direxion
Tech and semis have been hot this year, but have they overheated?
Most investors are well aware of how fabulous tech stocks have been this year. As mentioned, the tech-heavy NASDAQ-100® Index is up over 25%, while the PHLX Semiconductor Index (SOX) is up over 37% this year. Take a look at how the Direxion Daily Semiconductor Bull 3X Shares (SOXL) and the Direxion Daily Technology Bull 3X Shares (TECL) have fared versus the Direxion Daily S&P 500 Bull 3X Shares (SPXL).
Article continues below advertisement
Wow, 3X Tech is up 110% this year and 3X Semis are up 129%, easily outpacing 3X SPY at 62% even with a large tech and semi pullback in the last month. Can this kind of outperformance continue? On the plus side, technology and semiconductors are pro-cyclical stocks, which means when the economy grows, they grow even more. In 2017, the global economy was solid, and though economists have varying opinions, most think that global GDP growth could fall in the 3-4% range in 2018. That kind of positive growth could be good for technology. Technology also has the luxury of displacing other assets. Artificial Intelligence (or AI) ultimately could threaten human capital, but would be good for tech stocks. Also, the proposed tax bill could repatriate billions of dollars for tech companies for buybacks, dividends, or investments. And if the tax bill does unleash more animal spirits, people are likely to buy more tech gadgets. On the other hand, some tech valuations are stretched, as shown by a massive rotation out of tech in November. Many tech companies are also up against strong comparisons from last year and may suffer until growth can reaccelerate. Is this the pause that refreshes [refreshes what?] or the beginning of a tech swoon? 2018 will tell, but Direxion's 3X Bull ETFs, TECL and SOXL, can help you bet on tech and semis, while the 3X Bear ETFs, TECS and SOXS, can help you take the other side.
Market Realist
Tech and semis have outshone in 2017
The information technology sector (XLK)(QQQ) and the semiconductor industry (SMH)(SOXX) have been the most profitable sectors this year. The technology sector's growth has contributed to the "bull run" in the US equity market. As of December 12, the Technology Select Sector SPDR ETF (XLK) has returned 31.4% while the SPDR S&P Semiconductor ETF (XSD) has gained 23% year-to-date. The chart below shows subsector YTD gains for the technology sector.
Article continues below advertisement
As per a Factset report on November 24, for 3Q17, the blended earnings growth for the information technology sector (FB)(GOOGL) was 19.9%. The semiconductor industry alone was the most significant contributor to earnings growth for the S&P 500 with a 47% increase in year-over-year earnings. The December 5 Factset report states that the 4Q17 earnings for the information technology sector are expected to be around 15.2% The semiconductor business is expected to report YoY earnings growth of 34%.
Over the last 11 months, S&P 500 has remained highly correlated with the technology and semiconductor sector. From January 3 to December 3, 2017, the correlation between the SPDR S&P 500 ETF (SPY)(SPX-INDEX) and the Technology Select Sector SPDR ETF (XLK) stood at 0.98. On the other hand, the correlation between SPY and SPDR S&P Semiconductor ETF (XSD) stood at 0.92. The positive correlation depicts the fact that growth in these sectors was profitable for the broader market as well.
Commenting on the correlation between tech stocks and the S&P 500 in an interview with CNBC, David Lebovitz, vice president and global market strategist for the JPMorgan Asset Management Global Market Insights Strategy Team, stated that since the technology sector adds to the S&P 500's profit, the contribution to risk also increases.
In a note to clients in October, Credit Suisse strategist Jonathan Golub wrote, "Technology is our favorite sector despite elevated multiples. Fundamentals remain strong given the group's exposure to secular growth themes in subgroups such as internet and software-as-a-service." Golub gave "overweight" ratings to tech stocks (AAPL)(MSFT).
Nevertheless, whether or not tech and semiconductor stocks remain hot in 2018, investors still have a choice with Direxion's Daily Technology 3X Bull (TECL) and Semiconductor 3X Bull (SOXL) or the Daily Technology 3X Bear (TECS) and Semiconductor 3X Bear (SOXS) ETFs.