Stryker's Inorganic Growth Strategy Continues to Boost Growth
Stryker's acquisition-driven growth strategy Stryker (SYK) has been growing at a fast pace through inorganic growth. It has undertaken a number of strategic acquisitions recently. In 3Q17, acquisitions contributed approximately 0.6% of the company's YoY (year-over-year) sales growth, and in the first three quarters of 2017, Stryker acquisitions contributed ~3.2% of the company's sales growth […]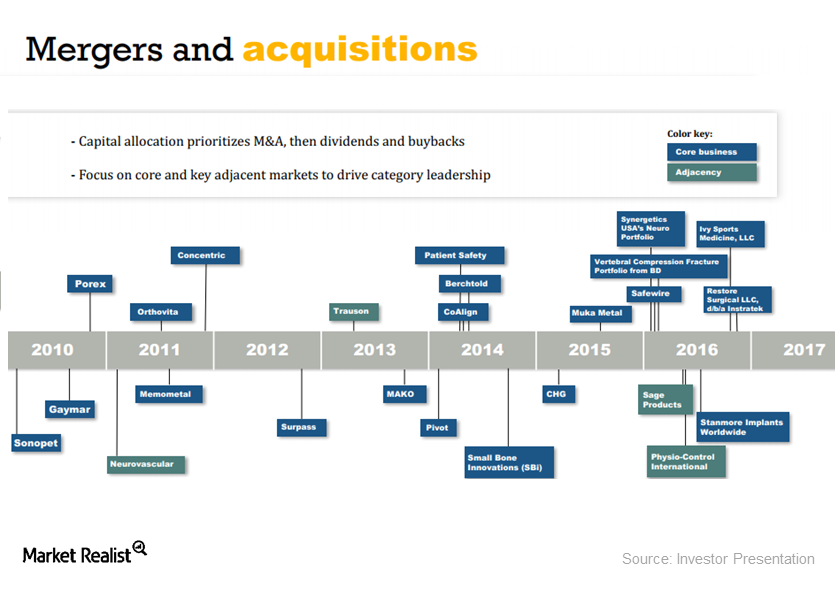 Stryker's acquisition-driven growth strategy
Stryker (SYK) has been growing at a fast pace through inorganic growth. It has undertaken a number of strategic acquisitions recently. In 3Q17, acquisitions contributed approximately 0.6% of the company's YoY (year-over-year) sales growth, and in the first three quarters of 2017, Stryker acquisitions contributed ~3.2% of the company's sales growth of ~9.9% YoY.
In fiscal 3Q17, Stryker's Orthopaedics, MedSurg, and NeuroTech and Spine segments saw acquisition benefits of approximately 0.3%, 0.6%, and 0.7%, respectively. The company undertook a higher number of acquisitions in fiscal 2016 than it has in fiscal 2017. The acquisitions undertaken by the company over the last few years are shown in the diagram above.
Article continues below advertisement
Article continues below advertisement
Stryker's investments in acquisitions
Whereas Stryker's cash investments in acquisitions during the first nine months of fiscal 2016 amounted to $4.3 billion, in the first nine months of fiscal 2017, they amounted to ~$0.71 billion.
Stryker acquired Novadaq Technologies in September 2017 and has announced that it will be acquiring Vexim and Entellus Medical during fiscal 4Q17.
Stryker's gross profit for the first nine months of 2017 was lower than in the same period of the year prior. Also, while the company's research, development, and engineering expenses were higher due to its acquisitions, its selling, general, and administrative expenses were lower due to leverage from the acquisitions.
Recent acquisitions in the medical technology space include Smith & Nephew's (SNN) acquisition of Rotation Medical, Medtronic's (MDT) acquisition of Crospon, and Edwards Lifesciences' (EW) acquisition of Harpoon Medical. Investors interested in risk-diversified exposure to Stryker could consider the iShares Russell 1000 Growth ETF (IWF), which has a ~0.40% exposure to Stryker.