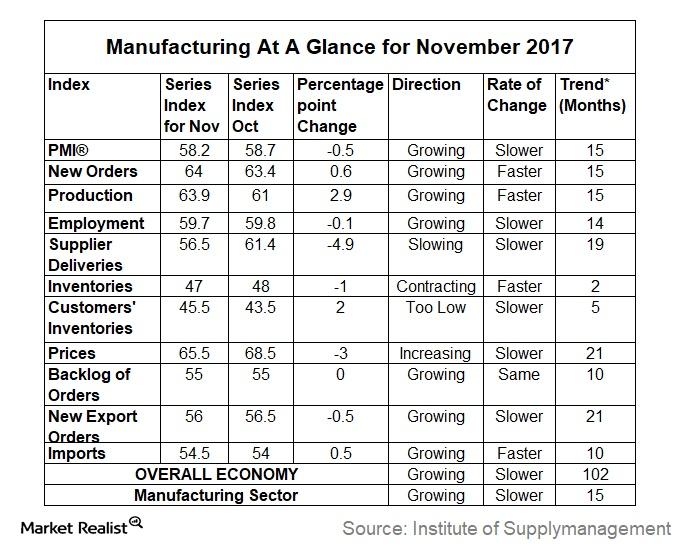 Strength of the Manufacturing Sector: Purchasing Managers' Index
Manufacturing activity in 2017
Manufacturing activity in the United States continued to expand but at a slower pace in November. This has been one of the best years since 2004 for manufacturing activity, viewed through the Purchasing Managers' Index (or PMI). The Institute for Supply Management (or ISM) publishes a monthly manufacturing (ITA) report that gives insight into manufacturing activity in the United States. The latest activity report published in December showed a slight decline to 58.2 in November compared to 58.7 in October. Below is an excerpt from the ISM report of various indexes reported by ISM. The index is a diffusion index, collected through a survey of purchasing managers, and any reading above 50 is an indication that the manufacturing (VIS) sector is expanding.
Article continues below advertisement
Breakdown of the ISM manufacturing index
According to the ISM report, 14 of the 18 industries surveyed have reported growth in November. The delivery index of suppliers was the major reason for the fall in the index in November. The reason for the decline in the last two months was the fall in demand compared to September when rebuilding efforts pushed demand higher. The positive takeaway from the December report was the increase in new orders and production indexes, both being forward indicators.
Will manufacturing index continue to improve?
The manufacturing (IGA) sector has witnessed 15 consecutive months of expansion so far, and some believe there's no reason to doubt that the current trend could wane. Forward indicators indicate increased demand, suggesting continued strength in the manufacturing (IYJ) sector. The recently passed tax reform bill could act as a catalyst for activity in the manufacturing (FXR) sector, possibly making 2018 another strong year for the sector.
In the next part of this series, we'll analyze the performance of the services sector in 2017.