Which Semiconductor Companies Are Potential Acquisition Targets in 2018?
Analysts at Morgan Stanley and KeyBanc Capital Markets have listed Cypress Semiconductor (CY) as a potential acquisition target.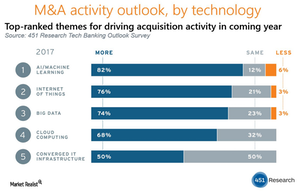 Semiconductor consolidation
The semiconductor industry is undergoing a technology shift toward AI (artificial intelligence) and IoT (Internet of Things). Some companies that have emerged as the true winner in this transition are NVIDIA (NVDA) and Intel (INTC).
NVIDIA is growing organically as its GPU (graphics processing unit) computing technology caters to the future computing needs. Intel, on the other hand, has resorted to acquisitions to get the desired technology to tap the AI and IoT opportunity. It acquired Mobileye in 2017 and Altera, Movidus, and Nervana in 2016.
Article continues below advertisement
Article continues below advertisement
Qualcomm (QCOM) is also acquiring NXP Semiconductors (NXPI) to get exposure to autonomous driving, which requires AI technology. Broadcom (AVGO) is acquiring Brocade Communications to expand its enterprise storage business. At the same time, it has made a hostile bid to acquire Qualcomm for over $100 billion. Marvell Technology Group (MRVL) is acquiring Cavium (CAVM) to expand in the data center and wireless communications markets.
This shows that 2017 has been a pretty active year for M&As (mergers and acquisitions), and this trend is likely to continue in 2018. Wall Street analysts have listed some of the semiconductor companies that could be good acquisition targets in 2018. We'll assess these below.
Cypress Semiconductor
Analysts at Morgan Stanley and KeyBanc Capital Markets have listed Cypress Semiconductor (CY) as a potential acquisition target. Cypress has upgraded to Cypress 3.0 model—a one-stop shop for all IoT needs. It might make a few more small acquisitions of analog or wireless chipset makers to enhance its IoT offerings.
Cypress's IoT portfolio and its $6 billion enterprise value make it an attractive acquisition target for bigger chipmakers looking to expand in IoT. In 2016, media reports stated that Cypress received acquisition interest from three Chinese firms including Summitville Capital and TPG Capital but the chipmaker rejected the offer.
Article continues below advertisement
Teradyne
Nomura analyst Romit Shah and KeyBanc Capital Markets identified Teradyne (TER) as a potential acquisition target. Teradyne supplies equipment to test semiconductors, wireless products, data storage, and complex electronic systems and has an enterprise value of $7 billion.
To be sure, IoT and AI open a whole new opportunity for data storage and wireless communications products. Romit Shah expects Broadcom to be a potential acquirer of Teradyne.
Cirrus Logic and Maxim Integrated
Romit Shah also listed Cirrus Logic (CRUS) and Maxim Integrated (MXIM) as potential acquisition targets of Broadcom.
Maxim received acquisition offer from Texas Instruments (TXN) and Analog Devices (ADI) in 2016, but both the companies withdrew their bids as they could not reach a price negotiation. Maxim supplies analog chips to all growth markets such as automotive, data center, and communications. It has an enterprise value of $13.5 billion.
Cirrus Logic supplies audio chips for Apple's (AAPL) products and has depended largely on the iPhone maker for revenues. If Broadcom acquires Cirrus Logic, its content per iPhone would likely increase. Broadcom is already Apple's largest semiconductor suppliers, supplying eight components for iPhone.