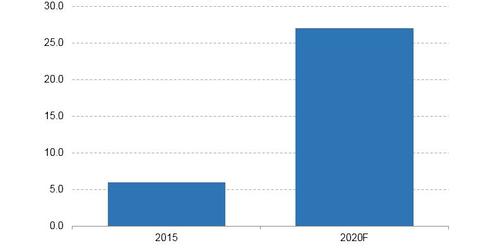 How Samsung Is Approaching the IoT Market
By Ruchi Gupta

Updated
Consumer IoT end-point market valued at $1.5 trillion
Selling IoT (Internet of Things) end points (or devices) appear to a natural market for Samsung (SSNLF), as it is already a leading global consumer electronics company.
In the consumer market alone, spending on consumer IoT end points is expected to hit $1.5 trillion by 2020—up sharply from $532.5 billion in 2016, according to Gartner estimates. Spending on business IoT end points is expected to exceed $1.4 trillion by 2020, compared with $847 billion in 2016.
Article continues below advertisement
Samsung looks beyond selling IoT end points
But in its IoT push, Samsung is looking beyond selling end points into securing IoT systems. IoT security involves safeguarding connected devices and networks.
As IoT adoption grows, demand for secure IoT connectivity is also increasing, and a potentially lucrative market is growing out it. According to business intelligence firm Research and Markets, global IoT security market will reach $27 billion by 2020, implying the market will growth at an average annual rate of 35.2% in the next few years. The IoT security market was valued at a little lower than $6.0 billion in 2015.
Potential clash of titans in IoT security market
To capitalize on the rapidly burgeoning IoT security market, Samsung is bringing its Knox mobile security solution to the IoT world. The company is also entering into strategic partnerships to bolster its IoT security prospects. Just a few months ago, the company teamed up with home security vendor ADT Corp to launch a new home security system powered by SmartThings.
In the IoT security market, Samsung is likely to face off with smartphone rivals Apple (AAPL) and BlackBerry (BB). Apple also offers a mobile security solution for its iOS users, while BlackBerry, having decided to exit the device-making business, is now focused more on mobile security and services.
Meanwhile, Cisco Systems (CSCO) and IBM (IBM) are grabbling with growth slowdowns in their primary industries and are also hoping to cash in on the business of safeguarding IoT end points and networks.