Germany's Manufacturing Growth Signals Stronger Business Climate
Germany's manufacturing data in November Germany's final manufacturing PMI (purchasing managers' index) stood at 62.5 in November, compared with 60.6 in October 2017, according to Markit Economics. The November reading met the preliminary estimate of 62.5, and was the second-highest score since February 2011. Germany's (DAX-INDEX) manufacturing PMI score improved due to increases in the following: new orders exports employment […]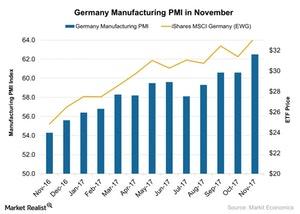 Germany's manufacturing data in November
Germany's final manufacturing PMI (purchasing managers' index) stood at 62.5 in November, compared with 60.6 in October 2017, according to Markit Economics. The November reading met the preliminary estimate of 62.5, and was the second-highest score since February 2011.
Germany's (DAX-INDEX) manufacturing PMI score improved due to increases in the following:
new orders
exports
employment
Production output grew the most since April 2017, supported by robust demand for German goods. Exports, new orders, and employment reached levels close to their 2010–2011 highs.
Stronger domestic and international (ACWI) demand boosted production in November, signaling improved economic health.
Article continues below advertisement
Article continues below advertisement
Performance of various ETFs in November
Whereas the iShares MSCI Germany ETF (EWG), which follows German equity markets, rose 0.5% in November 2017, the Vanguard FTSE Europe ETF (VGK), which follows European (HEDJ) (EZU) (IEV) equity markets, fell 0.1%. In the next part of this series, we'll analyze Eurozone manufacturing PMI data in November 2017.