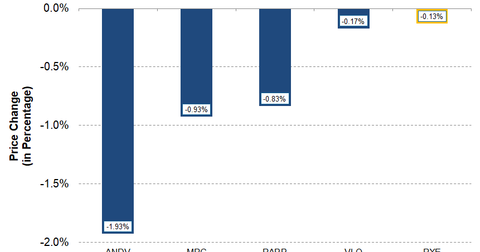 Refining and Marketing Energy Stocks Struggling this Week
By Nicholas Chapman

Updated
Refining and marketing losers
In this part of our series, we'll study the most-losing stocks from the US refining and marketing sector. To compile our list of the biggest refining and marketing losers, we selected refining and marketing energy companies with market capitalizations greater than $100 million and weekly average volume greater than 100,000 shares.
Article continues below advertisement
Andeavor: The biggest loser
Andeavor (ANDV) is the biggest loser this week from the refining and marketing sector. It fell from last week's close of $111.04 to $108.90 on December 13, ~1.9%. Although there's no specific news on the stock this week, ANDN hit a 52-week high of $112.13 on Monday. But it failed to hold the highs and fell subsequently on all three days of the week so far.
This week's fall in ANDV comes on the back of a strong rise of ~6.3% last week. In general, ANDV has been in a strong uptrend since mid-April 2017 and has gained ~47.7% since then. Currently, ANDV is trading not too far from its all-time high of $113.22 set in November 2015.
Per Andeavor's Investor and Analyst Day presentation on December 5, ANDV is targeting EBITDA[1. Earnings before interest, tax, depreciation, and amorization] of $4.5 billion in 2020, which is $1.4 billion higher than ANDV's full-year 2017 estimated EBITDA of $3.1 billion.
The other refining and marketing losers this week are Marathon Petroleum (MPC), Par Pacific Holdings (PARR), and Valero Energy (VLO). MPC, PARR, and VLO are down ~0.9%, ~0.8%, and ~0.1% respectively in the current week.
Even though the declines in ANDV MPC, PARR and VLO are not substantial, they are underperforming the PowerShares Dynamic Energy Exploration & Production Portfolio (PXE), which is down marginally by ~0.1% this week.
In comparison, the SPDR S&P500 ETF (SPY) is up 0.47% in the current week.