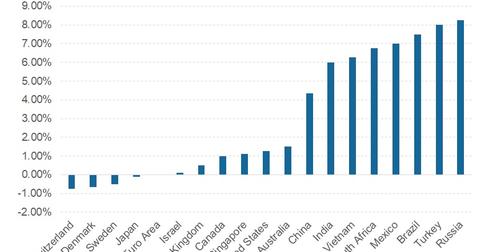 The Problem with the Current Interest Rates
By Ricky Cove

Dec. 1 2017, Updated 5:40 p.m. ET
Where are we now?
John Williams, president and CEO of the Federal Reserve Bank of San Francisco, spoke at the 2017 Asia Economic Policy Conference in November and discussed the challenges faced by central banks in conducting monetary policy in a changing global economic environment. He said that the attention of central banks is on policy normalization and to unwind the monetary stimulus that was provided in the last decade to help stabilize ailing economies. As part of the monetary stimulus, central banks have maintained interest rates (TLT) near 0%, and some economies such as Japan (EWJ) got the overnight rate into negative territory. With global economies progressing toward normalcy or the "new normal," as Williams called it, central banks are moving toward normalizing policy by signaling interest rate hikes.
Article continues below advertisement
The new normal of low interest rates
Williams said that the natural rate of interest is being held down by several factors, which are structural issues beyond the control of central banks and monetary policy. He pointed out these issues:
lower sustainable growth rate around the globe
demographics with people living longer and an increased level of savings that's depressing returns
demand for safe assets remaining high, pushing yields (BND) lower
Williams pointed out that these factors aren't linked to recession and could mean that we'll have to expect lower levels of interest (AGG) in the future. He said that with the inflation (TIP) target at 2%, interest rates must be at 2.5% (under the normal policy), which is 2% lower than the normal level of interest rates 20 years ago.
Is there is a solution to this emerging problem?
Williams said there is no direct solution to the changing trend in developed economies. He said the central banks must use this opportunity to plan and build tools to combat future recessions. If it's not planned, the central bank might have to resort to unconventional monetary policies again.
In the next and final part of this series, we'll lay out the key question that Williams wanted to answer, such as "Will the world catch a cold if the United States sneezes?"