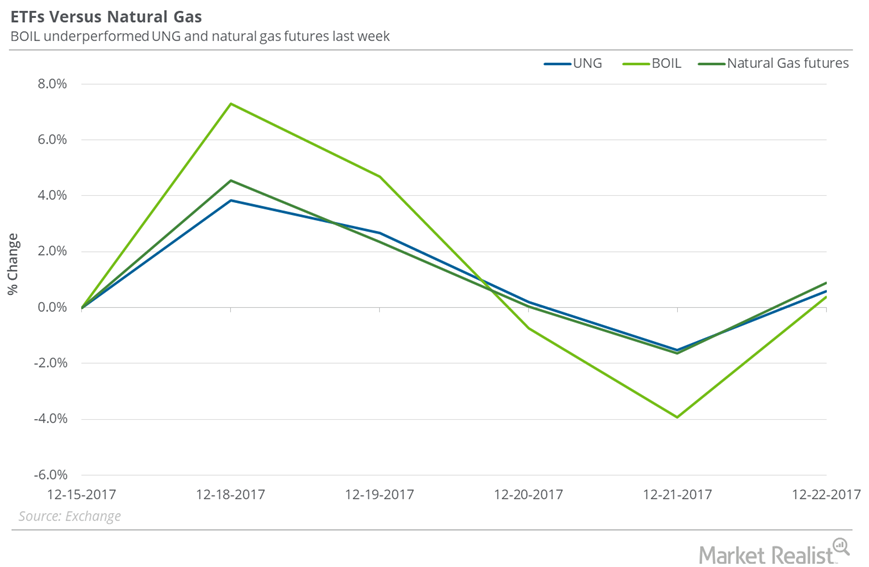 Natural Gas Returns and Natural Gas ETFs
Natural gas ETFs
From December 15–22, 2017, the United States Natural Gas ETF (UNG) rose 0.6%. UNG holds natural gas near-month futures contracts. That week, natural gas February 2018 futures rose 30 basis points, which was more than the rise for UNG.
In the seven calendar days to December 22, 2017, the ProShares Ultra Bloomberg Natural Gas (BOIL) rose 0.4%. Its aim is to capture twice the daily changes of the Bloomberg Natural Gas Subindex. The returns for BOIL and UNG are less than the rise in natural gas futures.
Article continues below advertisement
Since March 2016
Between March 3, 2016, and December 22, 2017, natural gas (FCG) (GASL) (GASX) active futures rose 62.7% from their 17-year low. Natural gas prices touched that low on March 3, 2016. UNG and BOIL fell 9.3% and 39.4%, respectively, from natural gas's low.
The negative roll yield could have created the difference between natural gas ETFs and natural gas futures returns. The roll yield is defined by the difference in the prices of two consecutive futures contracts. So the roll yield would be negative if active futures traded less than the next month's futures. Read Natural Gas: Have Oversupply Concerns Eased? to know more.
On December 22, 2017, there was a price gap of $0.036 between natural gas futures contracts for February and March 2018. That day, natural gas February futures settled higher than March futures, which could be an advantage for these ETFs.
The compounding effect of daily changes in price could make the actual returns vary from the expected returns, as in the case of BOIL.