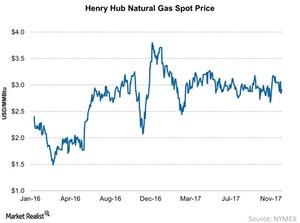 Natural Gas Prices for Fertilizer: Week Ended December 8
Mixed natural gas prices
According to the EIA (U.S Energy Information Administration), natural gas prices were broadly mixed from November 29 to December 6, 2017. At the Henry Hub, which is where natural gas is heavily traded in the United States (MOO), natural gas spot prices fell 4.5% to $2.92 per MMBtu (million British thermal unit) from $3.06 per MMBtu.
Article continues below advertisement
Other movements
Prices in the spot market fell week-over-week, and futures saw a similar trend. For example, the January 2018 contract prices fell 8.9% week-over-week to $2.92 per MMBtu, from $3.18 per MMBtu the previous week.
The fall in natural gas prices is welcomed by nitrogen fertilizer producers CF Industries (CF), PotashCorp (POT), Agrium (AGU), and Terra Nitrogen (TNH). However, more importantly, low volatility in natural gas price movements so far this year is looked on highly by these producers.
Year-over-year, net injections were 7% lower last week, according to the EIA, while production capacity increased with a net addition of six rigs to total 929 as of December 8, 2017. Compare that to a total rig count of 665 at the beginning of the year.
Temperature is one of the factors affecting the movement in natural gas prices. According to the EIA, temperatures in the lower 48 US states were higher than average last week. Usually, higher-than-average temperatures result in less need for heat and use of natural gas.
Next, let's look at the prices of phosphate fertilizers, starting with DAP (diammonium phosphate).