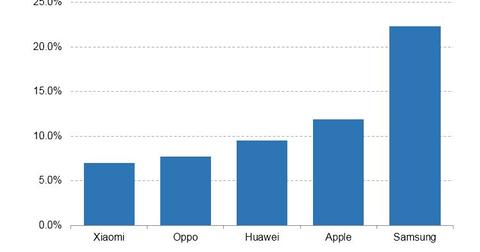 Making Sense of Samsung's SmartThings Initiative
By Ruchi Gupta

Updated
Unified IoT platform
At its 2017 annual developer conference in San Francisco (SPY) a few months ago, Samsung (SSNLF) said that it would bundle its pre-existing IoT (Internet of Things) services into a new unified IoT platform named SmartThings Cloud. Samsung is providing the SmartThings app for controlling IoT devices connected via its SmartThings platform.
According to Samsung, this initiative is focused on democratizing IoT, and so its unified SmartThings platform will likely be more open. This means that products from Samsung rivals Apple (AAPL) and Microsoft (MSFT) will likely be able to plug into the platform.
A broad range of products
But even without third-party devices connecting to the platform, on its own, Samsung has a broad range of products that are set to benefit from SmartThings Cloud. In addition to smartphones, Samsung's portfolio of consumer products includes tablets, televisions, and appliances. Samsung has consistently topped the smartphone vendor chart on the basis of market share or number of devices shipped.
According to Gartner, Samsung was the top smartphone vendor in 3Q17, controlling 22.3% of the market, compared with 11.9% for Apple and 9.5% China-based (MCHI) Huawei.
Huge revenue opportunity
As part of its IoT push, Samsung has in recent times launched a number of smart devices and appliances, including its smart refrigerator, Family Hub. But what will come of Samsung's IoT push?
According to Gartner, IoT is gaining traction rapidly, and the industry presents huge revenue opportunity. The IoT installed base—the total number of "things" connected to the internet—is expected to grow 31% to reach 8.4 billion devices by the end of 2017. It's expected to reach 20.4 billion devices by 2020, and spending on IoT devices and services is expected to hit $1.7 trillion in 2017, growing to almost $3.0 trillion by 2020.