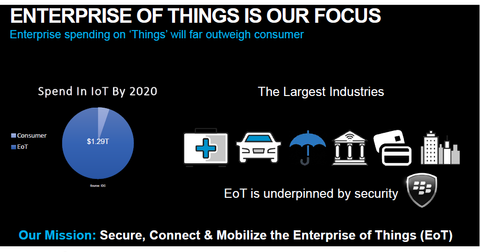 Why BlackBerry Is Eyeing the Internet-of-Things Space
By Adam Rogers

Oct. 2 2017, Published 1:54 p.m. ET
IoT and EoT
The Internet-of-Things (or IoT) market is expected to reach $4 trillion in value by the end of 2025, according to McKinsey & Company. Over 70% of this value should be driven by B2B (business-to-business) customers in verticals such as healthcare, transportation, energy, logistics, and security. BlackBerry (BBRY) has named this B2B space the Enterprise-of-Things (or EoT).
The company aims to connect, manage, and secure the EoT via BlackBerry Secure. The IoT segment should reach approximately $1.2 trillion by calendar 2020, and the majority of this growth should consist of enterprise or B2B customers.
Enterprise mobility management
Article continues below advertisement
BlackBerry is focusing on enterprise markets since several companies are now significantly increasing digital transformation efforts. BlackBerry aims to expand into verticals such as utilities, healthcare, and transportation, where embedded software and critical infrastructure are important. BlackBerry expects this portfolio of services to extend its customer base and target new industries.
According to BlackBerry's presentation, the company wants to "Unleash a distributed business network by making it easy to externalize business workflow by extending in-house and third party systems with a cohesive user experience and embedded yet invisible security across any employee/customer/partner, endpoint and ownership model."
BlackBerry's software is integrated with several automobile manufacturers, such as Ford (F), General Motors (GM), Chrysler, Toyota, Lexus, Audi, and Volkswagen.